From the moment you arrive, guests are assured of a carefree and comfortable stay at Fancourt Resort Hotel.
Fancourt offers a luxurious, contemporary and relaxed environment and with award-winning golf courses, fine dining, wellness and family-friendly facilities, it makes Fancourt perfect for any kind of traveller.
Upon arrival, my partner and I were warmly welcomed by the friendly porters' ready to assist with our luggage and they even offered to park our vehicle for our convenience.
At the reception desk, my partner and I were served with a glass of champagne while the receptionist assured a smooth check-in process.
Jamie Cooper, the Marketing Manager took the time to introduce herself and offered her personal assistance should we need any assistance during our stay.
The porter then showed us to our One-Bedroom Suite where we were delighted to enter our room and find a complimentary wine accompanied by a hand-written note.
Each suite has a private balcony or patio with idyllic views of Fancourt's estate. The room had a king size bed with a separate lounge area, TVs, mini bar, Coffee and tea making facilities and Wi-Fi access.
The second night we received a room upgrade and stayed in one of the suites at the Manor House. We were again surprised with a chilled bottle of champagne and they spoiled us with a beautiful towel and rose petal representation in our room, seeing that is was our honeymoon.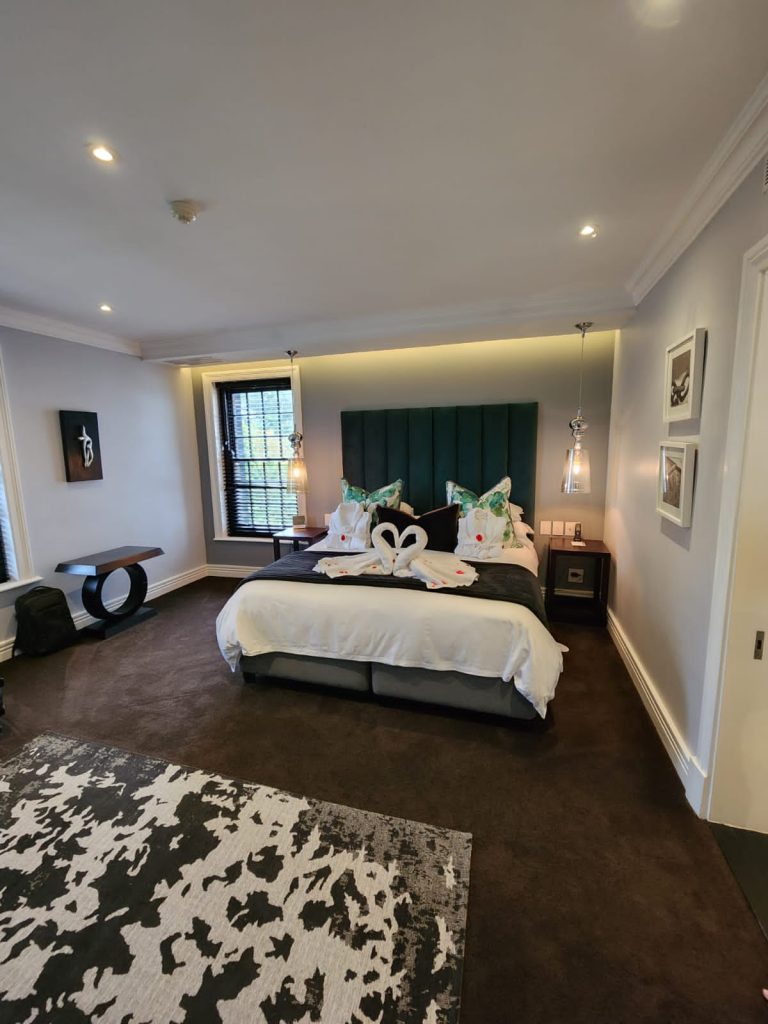 Guests staying at the Manor House can enjoy from 24-hour in-room dining and luxury bathroom amenities to a private pool and the beautifully appointed Manor House Library and Manor House Lounge.
My partner and I had dinner at La Cantina serving Italian cuisine. I enjoyed the best Chicken Ravioli and my partner had the most tender, flavourful T-bone steak served with salad and fries. The staff were very eager to assist with any request we might have had. Fancourt offers 4 restaurants to choose from and allows you to definitely find something to enjoy on their menus.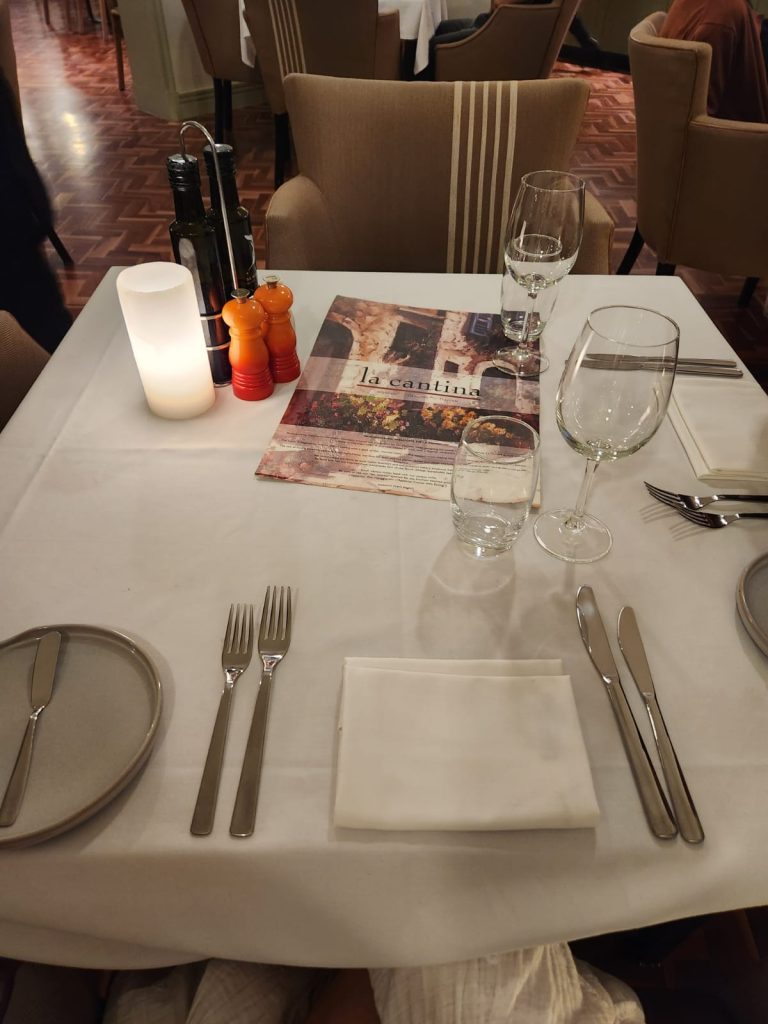 We enjoyed our complimentary full buffet breakfast at La Cantina since they are also Fancourt's breakfast restaurant of choice.
The breakfast was delicious, the buffet included, pastries, hot dishes, cold meats, cereals and more, the chef also cooked our choice of eggs upon request.
We made use of the complimentary facilities such as the Roman Bath and Jacuzzi. The area was always clean and we appreciated the fact that there were always dry towels readily available to use. The perfect temperature of the Roman bath made it easily enjoyable and we could truly relax.
We were thoroughly impressed with all of the staff that we came into contact with. We were impressed with the effort that they went through to ensure our every need was met in an unobtrusive but kind way. The housekeeping services were quick to notice when extra items in the room were needed.
Our stay at Fancourt was an absolutely unforgettable experience and one that we are bound to remember for a long time. The excellence in service, presentation and luxurious details from beginning to end will definitely ensure that we will be recommending Fancourt as a place to stay when visiting South Africa.
Reviewed by World Luxury Awards representative, Chanté Ebersohn.
For more information visit www.fancourt.co.za or email: reservations@fancourt.co.za