Far from the World "A Unique Peninsula, a Unique Bay, a Unique Nature" : Angel's Marmaris.
A unique accommodation experience is waiting for you at Angel's Marmaris that has breathtaking bay and forest views, rooms and villas with pools located among the pine trees by the sea.

At the family beach which is surrounded by white sands and palm trees, you can have a special experience by swimming with fish.

With its beach and pools that are special for women and children only, a unique accommodation experience for your family.

Waiting for you in the Aegean region which is home to the world's most special bays, Angel's Marmaris offers the first-class, ultra-all-inclusive service experience in company with a personalized holiday assistant with its unique architecture surrounded by red pines and tropical plants of the Aegean Region, the largest seawater pool in Türkiye, a mini club and aquapark, fitness centers with sea views, a peninsula infinity pool, and seaside lounges.

Angel's summer far from the world is waiting for you.
Features & Facilities
Private Villas
Private Transfers
Premium All Inclusive
Pool Villas
Online Check-in
Service Request
Separate Children's Pool
Restaurants
Tennis Court
Swimming Pool
SPA
Snacks
Shuttle Service
Yacht Transfers
Tropical Gardens
Transfer Services
Traditional Welcome Reception
Infinity Swimming Pool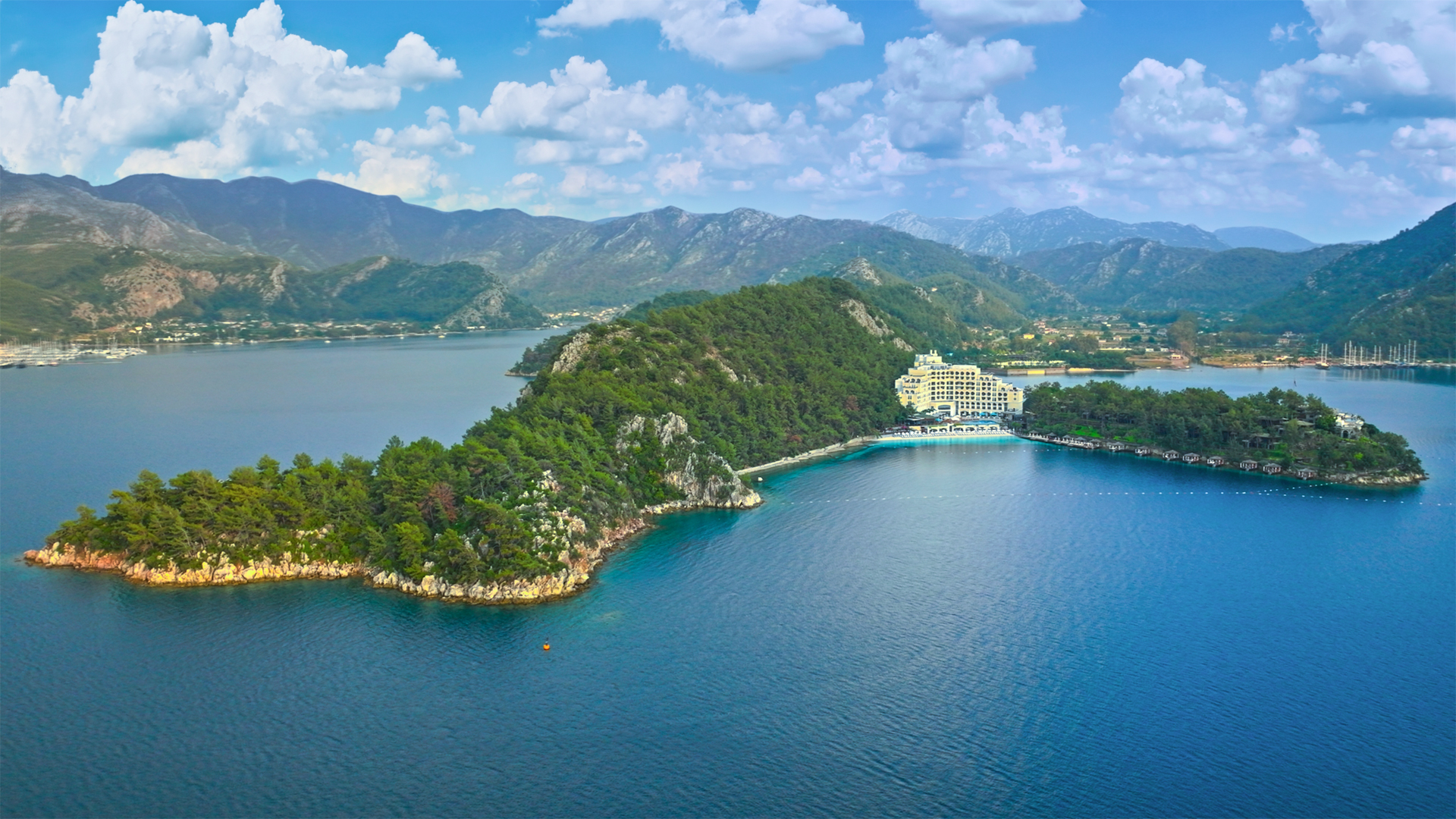 Angel's Marmaris Factsheet
ANGEL'S MARMARIS
The world's best family hotel; Europe's best alcohol-free hotel

ENJOY A BLISSFUL HOLIDAY SURROUND BY SEA AND FOREST on the Marmaris Sea, home to some of Turkey's best bays.

º Alcohol-free halal hotel concept
º Family-centric
º Ultra all inclusive, first class service
º Villas in the a peninsula forest, plus rooms with a bay view
º Two separate beaches on two lovely Marmaris bays.
º A ladies-only beach and pier
º Baby and kids' buffets, pools, and playgrounds galore
º Holiday assistant service

Winner of the World's Best Hotel Award
Angel's Marmaris

A mini paradise in its own right, Angel's Marmaris is the only hotel in Turkey awarded the World's Best Family Hotel, World's Best Alcohol-Free Hotel, and World's Best Luxury Green Hotel multiple times in a row since 2012 by the World Travel Awards – a leading authority in travel and accommodation guidance.

Promising you a stay of a lifetime in one of the most unique spots on Earth, Angel's Marmaris offers first class service plus your own holiday assistant to help you plan your vacation. Angel's Marmaris is ultra all-inclusive, and features a ladies-only beach and pier, plus a family beach in a secluded cove.

Angel's Marmaris is ideal for anyone looking to escape hustle and bustle, and get loose themselves in quiet, centuries-old red pine forests and small Aegean islands where time doesn't seem to exist.

Rooms and Suites
Angel's Marmaris has 158 rooms and 4 king suits, each of which is spacious and luxurious to the nines.

Stay on the Peninsula
All of Angel's Marmaris villas are located on a peninsula surrounded by bays as far as the eye can see, offering you an experience found in only a very few places in the world. Our peninsula is completely encircled by sea and forest. There are 20 villas in total, some with pools, others without.

Villa Privileges
- VIP holiday assistant for villa guests
- Private buggy service to and from the villas
- VIP cleaning and service personnel
- Access to the sea lodge
- A la carte dinner (free for villa guests) OR smorgasbord dinner at the main restaurant by the infinity pool – overlooking 270 degrees of peninsula, sea, and forest.
Restaurants
- Hunkar Restaurant – smorgasbord
- Angel's Pattiserie – bakery/pastry shop
- Yosun Restaurant – snack bar
- Angelo Restaurant – Steak A'la Carte
- Hisar Restaurant – A'la carte
- Saklıdeniz Restaurant – Snackbar
- Aquapark Beverage Buffet
- Mini Club Kids's Restaurant
- Starbucks
- Lobby Café
- Forest Café
- Marina Café

Beach, Pool, and Aquapark

In halal hotels, you are required to wear Islam-appropriate swim attire (half or full) inside the building, as well as in mixed pool and beach areas.

- Mix Turquoise Main Beach (family-friendly bay beach – mixed gender)
- Mix Main Pier (family-friendly bay pier – mixed gender)
- Peninsula Sea Lodges (family-friendly, extra charge)
- Marina Pier (family-friendly – mixed gender)
- Ladies-Only Saklıdeniz (exclusively for women)
- Ladies-Only Pier & Beach (exclusively for women)
- Aquapark (includes separate sections for adults, babies (flat water slides), and kids)
- Mix Family Pool (family-friendly, mixed gender)
- Infinity Pool for Ladies (Hisar)
- Indoor pool (separate hours for men and women)
- Spa (Turkish bath / sauna / massage / gym) – separate hours for men and women


LADIES ONLY ZONE
Women are free to use this area wearing any swim attire they so wish. You must leave your phones at the Saklıdeniz reception desk (at the entrance) beforehand.

EXCLUSIVE FOR WOMEN
Angelady's is served entirely by female staff. Also included:
- A segregated reception desk
- Refreshment kiosks (all day beverage service)
- Snack Restaurant (lunch / a la carte ),
- Dessert and beverage café
- Open massage areas
- Grass, beach, and wet sunbathing zones
- Sea swings
- Sea hammocks
- Open air sleeping areas for babies
- Grass Pilates / fitness areas
- All day cartoon shows and entertainment

Exclusive for Kids

- Special smorgasbords for babies in all restaurants (free)
- Kids restaurant (mini club / lunch time / free)
- Baby prams (free)
- Baby cots for hotel rooms (free)
- Outdoor sleeping areas for babies (Saklıdeniz / free)
- Babysitting service (paid)

Kids' Pool & Sea
- Turquoise Main Beach: Covered in pure sand – safe for babies and kids
- Saklıdeniz (Ladies Only): A hidden beach for women, complete with sandboxes and a pool for the kids
- Aquapark: Complete with water slides and water playgrounds for babies and kids.
- Kids Pool (main pool – mixed gender)


Mini Club
- Expert team
- Paid babysitting for babies
- Sleeping rooms
- Kids restaurant