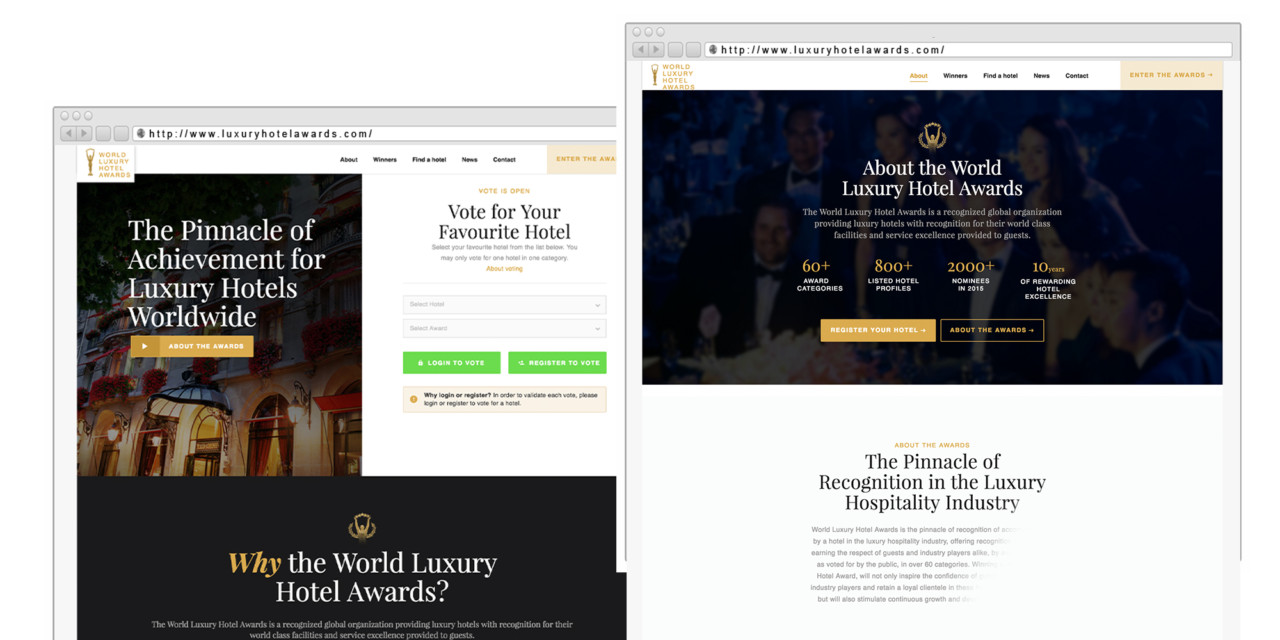 With 2016 heralding the 10th Anniversary of World Luxury Hotel Awards, exciting upgrades have been in development to further enhance how hotels and visitors interact.
If you haven't heard the news yet, World Luxury Hotel Awards recently launched a brand new state-of-the-art website which includes many exciting features for participants and visitors alike.
The new site offers many new and intuitively integrated features, utilising the most advanced web design technologies available today, to enhance the way the best luxury hotels in the world, connect with travellers, patrons and each other.
Participating hotels will receive full access to their profiles through our new Profile Management Facility. Every nominated and registered participant will receive their unique profile, accessible on our website by logging in with a unique username and password. Once logged in, the hotel can upload and update photographs, indicate and update the facilities they offer, add extra information about particular services that they would like to emphasise, pin real-time social media feeds to their profile page and much more! Participants will also have access to a variety of downloadable marketing and support resources from our "Resource Centre".
Each participant will be hosted on our website and will receive its own, beautifully designed profile page.
The page features large images that scroll behind the page as you browse, live social media feeds for that hotel, a visual representation of location using Google Maps, all the contact information for the hotel as well as a direct mailing facility for a visitor to make inquiries directly to the mailbox designated by the hotel. Each profile has a unique link that can be shared online and will take visitors straight to the profile of the participating hotel.
Visitors can vote for a hotel, directly from their profiles, from the home page or by clicking on a shared link.
Since the official launch of the new website on the 17th of June 2016, we have recorded 129% traffic growth from all over the globe from 64 016 sessions (17-May-2015 – 17-Jun-2015) to 146 929 sessions (17-Jun-2016 – 17-Jul-2016).
We have many features scheduled for launch in the next few weeks like live support, online store and secure payment gateway. If you would like to stay up to date with the latest announcements as well as updates to our ever improving program, please subscribe to our monthly newsletter.