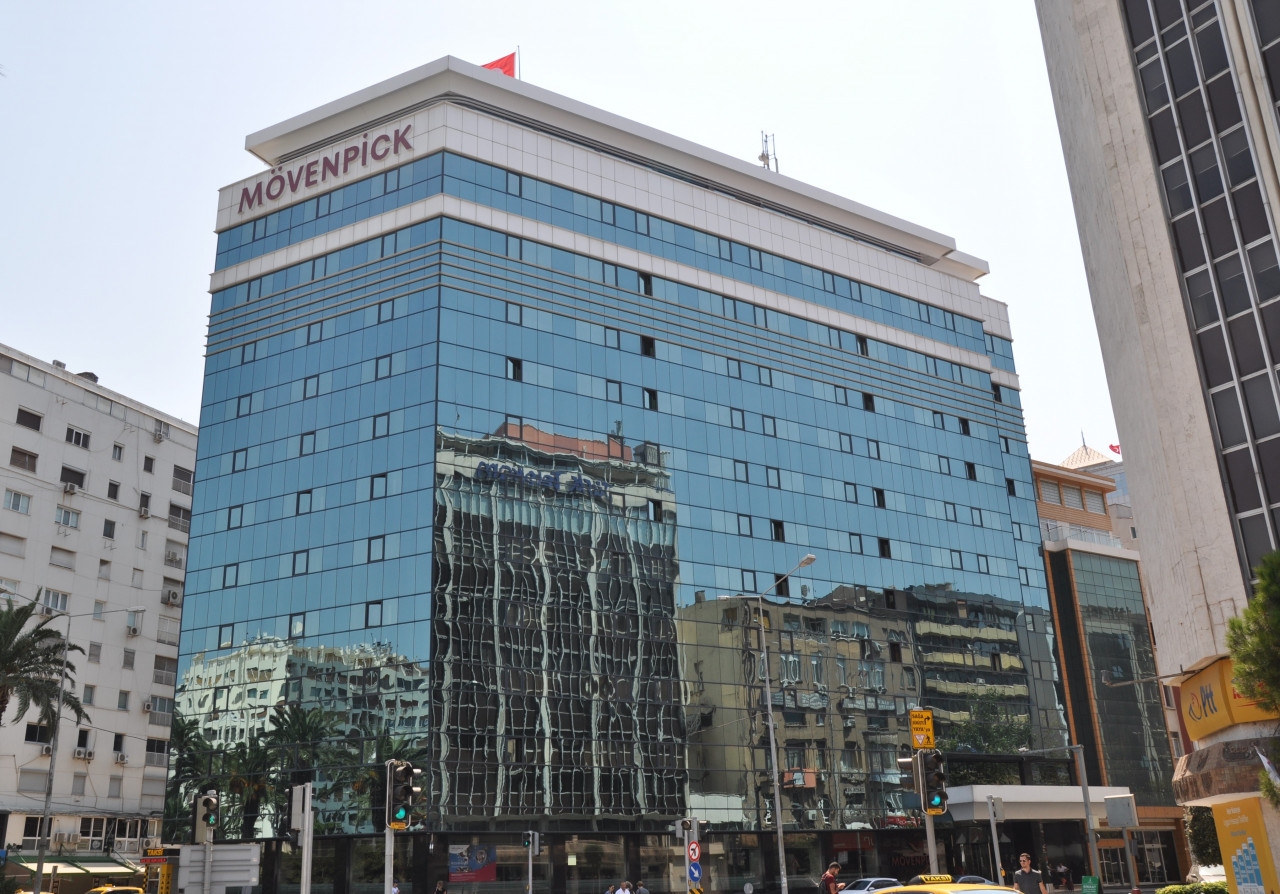 The award-winning Mövenpick Hotel Izmir with its urban all-glass exterior is perfectly located in the absolute heart of the city. It is within walking distance of the business- and shopping districts and less than a kilometre from popular tourist sites like the Izmir Clock Tower and Kemeralti Bazaar. The stunning lobby with high-rise ceiling of intersecting golden circles also echoed on the floor are a symbol of the perfection, class and consistency that is Mövenpick.
The staff are highly professional and certainly uphold the traditional Swiss standards with a flair of true Turkish hospitality! They spared no effort in ensuring that our time in Izmir was well spent making the necessary arrangements for tours and activities in Izmir and the surrounds and were very well informed. We were welcomed by the lovely PR Manager, Merih Hasaltun, who ensured that every detail was perfect for our stay.
The hotel has 185 Rooms, including 36 Executive Rooms and 17 Suites. Our senior suite on the eighth floor had spectacular views of both the city and sea. The suite was spacious with lots of natural light and well laid out with two separate lounges and workspaces particularly useful for business travellers. The suite furthermore had two minibars, two television sets and other equipment that might be of use to corporate guests. The hotel also has several meeting rooms available.

For a sweet indulgence, there is the Swiss Cake Shop Mövenpick which sells delectable cakes and the world-class Mövenpick ice cream. For something more substantial, there is Margaux Restaurant which serves a buffet-style breakfast and à la carte lunch and dinner and the occasional themed set menu. A lot can be said about the creative cuisine that is presented by the chefs at Margaux Restaurant. We were treated to a world of flavours of both international cuisine as well as some wonderful interpretations of Turkish classics. Of particular note was the Börek (fine duck leg and pistachio in phyllo pastry) which simply melts in your mouth and the chef's signature Roast Aubergine Soup garnished with aubergine chips. The Beef Tenderloin was remarkably succulent and soft and served with a marvellous porcini sauce! All meals were beautifully presented by the chefs and well accompanied by our friendly waitress Ôykü who served us every night and ensured that that we got a good impression of what special dinners at Margaux Restaurant is all about.
For those aiming to keep in step with their after-work exercise routine, the Fitness Centre with its incredible view of the sunset hues and Izmir skyline will make the stress (and time) simply fade away. What better way to end it all off than with a dip in the heated pool in the Coral Health Club on the 11th floor or spend some time in the sauna and steam room. For destressing on a deeper level, professional massage therapists are available until 9 pm.
It is then no wonder that Mövenpick Hotel Izmir has been vote as Turkey's Leading Business Hotel.
Reviewed by World Luxury Hotel Awards Representative: Mrs. Signe Da Silva
To book a stay at Mövenpick Hotel Izmir simply follow the link: https://www.movenpick.com/en/europe/turkey/izmir/hotel-izmir/overview/