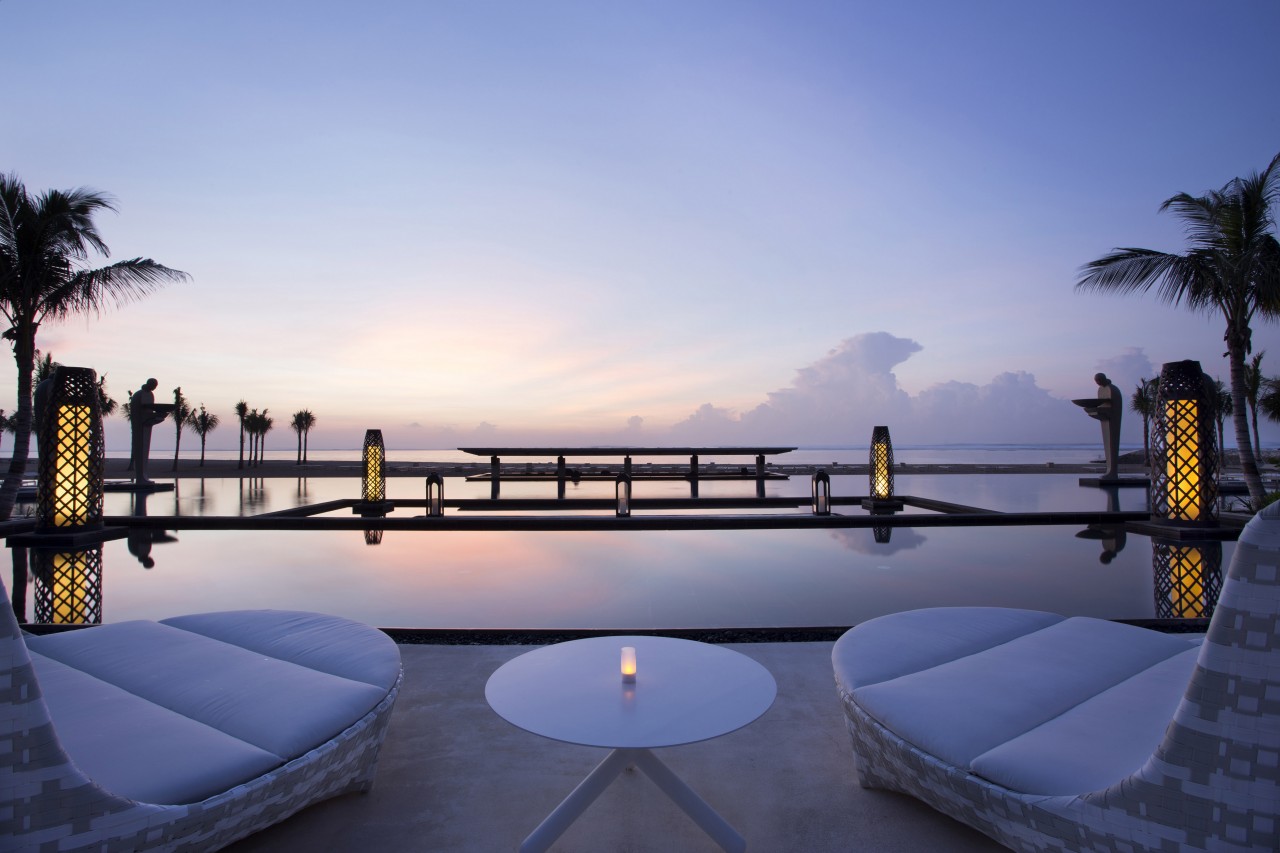 My Husband and i recently had the privilege to visit The Mulia Resort in Bail. It was one of the most luxurious experiences we have ever had and we were thoroughly impressed with the attention to detail – the resort itself was immaculately kept, the staff always friendly, helpful and available, the food was exquisite and we will forever treasure the memories of our stay.
We arrived at the Mulia after a long wait and treacherous journey from the Gili Islands followed by a long drive from Padang Bay – typical traffic jams along the way. My husband kept in contact with the hotel to notify the delay in arrival and they were understanding and helpful in on the telephone. We arrived after dark and were immediately welcomed by a staff member who collected our luggage and provided us with a receipt which immediately came as a wonderful relief. Upon check in, due to multiple staff members being available to help us, we did not have to wait and were welcomed with a hot towel and cool water which helped to further remove the sweat and stress of the day. We were greeted and accompanied to our room by another staff member – which helped greatly, as the scale of the resort can be quite alarming initially – but she explained to us quickly which floors we would be wanting to use for whatever activity we wished to pursue, for example eating out or outdoor activities. She also explained vouchers that were issued to us which entitled us to discount on lunch or a few welcome drinks. Even with the sun down already, the aesthetic of the architectural design –with its clean and linear lines, juxtapositioned with the delicate floral lighting and glass fixtures and mosaic work in the water features were breath taking, and we were looking forward to a chance to review and appreciate the details of the interior design in the day time.
We stayed in a room with a king-sized bed, facing the courtyard, number 2857 to be specific. The room was extremely spacious, with small details that made it both comfortable and practical, for example the recliner in the corner, the presence of a desk and chair as well as a discreet blind that could either open the bathroom up to be visible from the bedroom or have the extra privacy if needed. There was ample cupboard space to unpack everything if needed to get rid of that "living out of the suitcase" feeling and the balcony had two upmarket but comfortable single seaters with a small coffee table, ideal for early morning coffees or evening sunset gazing.
The bed was absolutely perfect – the size, the mattress, the bedding, the linen – it was one of the most lavish spoils we have ever experienced. The fact that the bathroom consisted of both a shower and a bath – both spacious and elegant, made for a room truly catering for whatever preference guests could have. The high-end technology accompanying the toilet was also a first for us to experience and made for a more pleasant bathroom experience. Lastly small touches were made for guests, such as issuing of soft and lush dressing gowns, flip flops, bathroom accessories, lotions, soaps and shampoos as well as two beautiful carrier bags that could be used while staying at the resort. With my recent birthday just having passed, a piece of beautiful confectionary and a birthday card made me feel really special and spoiled on top of all the luxury and extravagance.

We had complimentary breakfast at The Café every morning and was astounded with the vast selection that was on offer – all cultures, tastes and preferences were accounted for, with ample quantities provided – and due to the layout of multiple stations, one rarely had to queue for food – and if needed, never lasting longer than a minute or two. The quality of the food was fantastic and the staff were courteous and friendly, eager to help with whatever request or inquiry we had. We also had dinner at The Café, where we were given the opportunity to order off the a la carte menu or from the buffet.
We also took the opportunity to order some room service while staying at the Mulia, and was impressed with the selection, efficiency of service and taste and presentation of the food. The fact that the option was there to set up a table for you in the room also made it a more comfortable experience.

We were thoroughly impressed with all of the staff that we came into contact with. We were impressed with the effort that they went through to ensure our every need was met in an unobtrusive but kind way. All of the staff members were fluent in English, which is not a small thing, considering our experiences in other areas of Bali. The housekeeping services were quick to notice when extra items in the room were needed and on one occasion even ensured that my valuables were locked away safely when I had forgotten to do so upon leaving for breakfast. Daily fresh fruit and complimentary water were given which was definitely a plus and there were clear notes left re: communication of washing of towels and bedding – we appreciated that an effort was made to not wash bedding every day to save some water and try to decrease our carbon footprint, but that you could also request to do so if there was a specific reason you might need this daily service.
It was truly inspirational to see what effort the staff put in to maintain the pristine premises of the Mulia. Staff members were seen raking loose sea grass from the ocean, sifting coarser pebbles from the beach sand and washing some gravel like stones in a decorative landscaped area. It is clear that only with the level of dedication and detail orientated focus, one is able to ensure the perfection and elegance that we found at the Mulia.
My husband and I spent some time at both the courtyard and seaside pools on the two days we spent at the Mulia. It was a lovely touch that fresh swimming towels were provided at the different swimming areas, meaning that we would not have to carry towels to and from the rooms and that towels that were used would be washed and or cleaned without you having to take responsibility for any of this. The deck chairs were fantastic – as comfortable as a day bed and long enough for my husband who usually ends up being too tall for these kinds of chairs.
I greatly appreciated that there was a traditional Balinese temple on the premises of the Mulia. I was so happy to have a look at the beauty one finds in the immensely detailed stone carving, rich history and fascinating stories one finds in such temples.
Our stay at the Mulia was an absolutely unforgettable experience and one that we are bound to remember for a long time. It is not surprising to see how well The Mulia is performing in international awards arena, and the excellence in service, presentation and luxurious details from beginning to end will definitely ensure that we will be recommending The Mulia as a place to stay when visiting Nusa Dua, Bali.
Reviewed by World Luxury Hotel Awards Representatives.
To book a stay at this beautiful Resort follow the link: www.themulia.com/mulia-bal