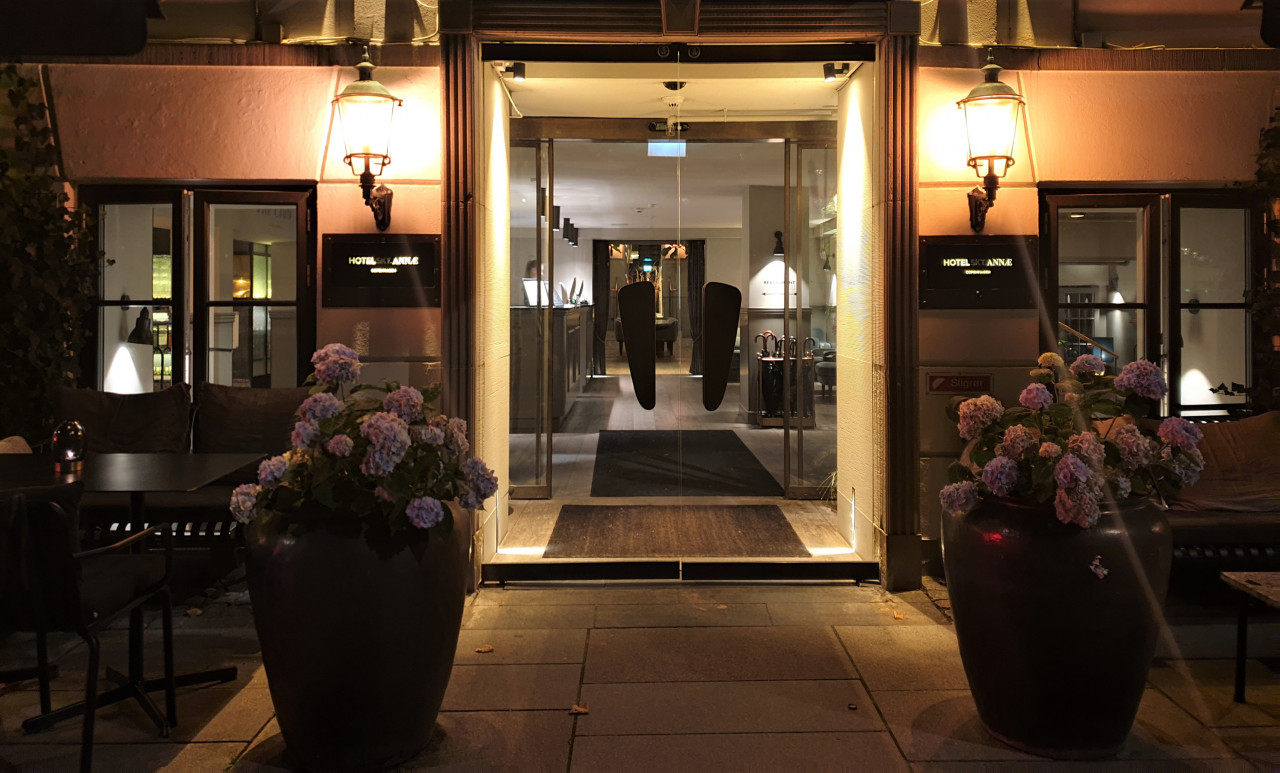 Arriving at Hotel Skt. Annæ in Copenhagen I was immediately impressed by the beautiful exterior with large flower pots on either side of the entrance, historic buildings in the surrounding area and the close proximity to the city centre. We were within walking distance to a variety of restaurants and most importantly Strøget; the longest pedestrian shopping street in Europe at 1.1 km. We arrived a little early for check in and the front desk staff were happy to keep our luggage in storage while we went to explore the city.
Hotel Skt. Annæ boasts a beautiful open area which immediately catches your attention. Featuring a large wooden table in the centre, with beautiful chandeliers hanging above and plants all around the room it really is a special space and feels like the heart of the hotel. There is also writing on the wall explaining Hotel Skt. Annæ's history and other interesting facts about the property.
Once we got back from an afternoon of exploring the charming city of Copenhagen, we were able to go to our rooms. Our room was modern and beautifully decorated with a painting by the famous Danish painter Vilhelm Hammershøi. His artwork can be seen throughout the hotel and really stood out to me.  Besides this the furnishings in Hotel Skt. Annæ are largely from Danish Designers.
Our room also had a beautiful view over the street outside, a sizeable and comfortable bed, desk area and a beautiful bathroom with gold bronze taps and shower heads. The design in the bathroom really stood out to me.
After a great night's sleep, we headed down for breakfast and wow, Hotel Skt. Annæ seriously shines here. There are 3 parts to the breakfast area, first the Breakfast Restaurant Area, then the kitchen area where the buffet is placed and lastly an indoor courtyard area where more seating is available with a beautiful tree in the centre. This area is also buzzing at night, and a great spot for a glass of wine with friends.
I absolutely loved the fact that the buffet area was basically in the kitchen and while you were dishing up your morning scrambled eggs you could see the chef on the other side preparing meals. Very unique and a great touch. The food selection at breakfast was incredible with everything from Bacon and eggs to Cheesecake and Nutella Croissants.
The lounge area in Hotel Skt. Annæ is also a great area to grab a quick coffee, meet with friends or simply relax with a glass of wine. Keeping in theme with the hotel décor, the space is modern and contemporary with a beautiful fireplace as a centrepiece. There is even a Hotel Skt. Annæ magazine on the table where you can read all about the hotel, get to know each staff member and great tips on what to explore and must see's in Copenhagen. I loved this personal touch.
The staff at Hotel Skt. Annæ are incredibly friendly and helpful and you immediately feel comfortable and at home. On our last day we had a late flight back home and at the last minute requested a late check-out. The staff were quick to accommodate us at such short notice and this really made our last day in Copenhagen enjoyable. Just before leaving for the airport we were able to freshen up for the long journey ahead.
All in all, our stay at Hotel Skt. Annæ was an all-round wonderful experience from start to finish. The Hotel is the perfect blend of luxury and comfort with modern design. Add in amazing staff, great food with a warm atmosphere and you have yourself a winner! Hotel Skt. Annæ is definitely the hotel to stay at when visiting Copenhagen.
Reviewed by Executive Manager of The World Luxury Awards: Ms. Tanique Echardt
To book a stay at this remarkable hotel follow the link: www.hotelsktannae.dk