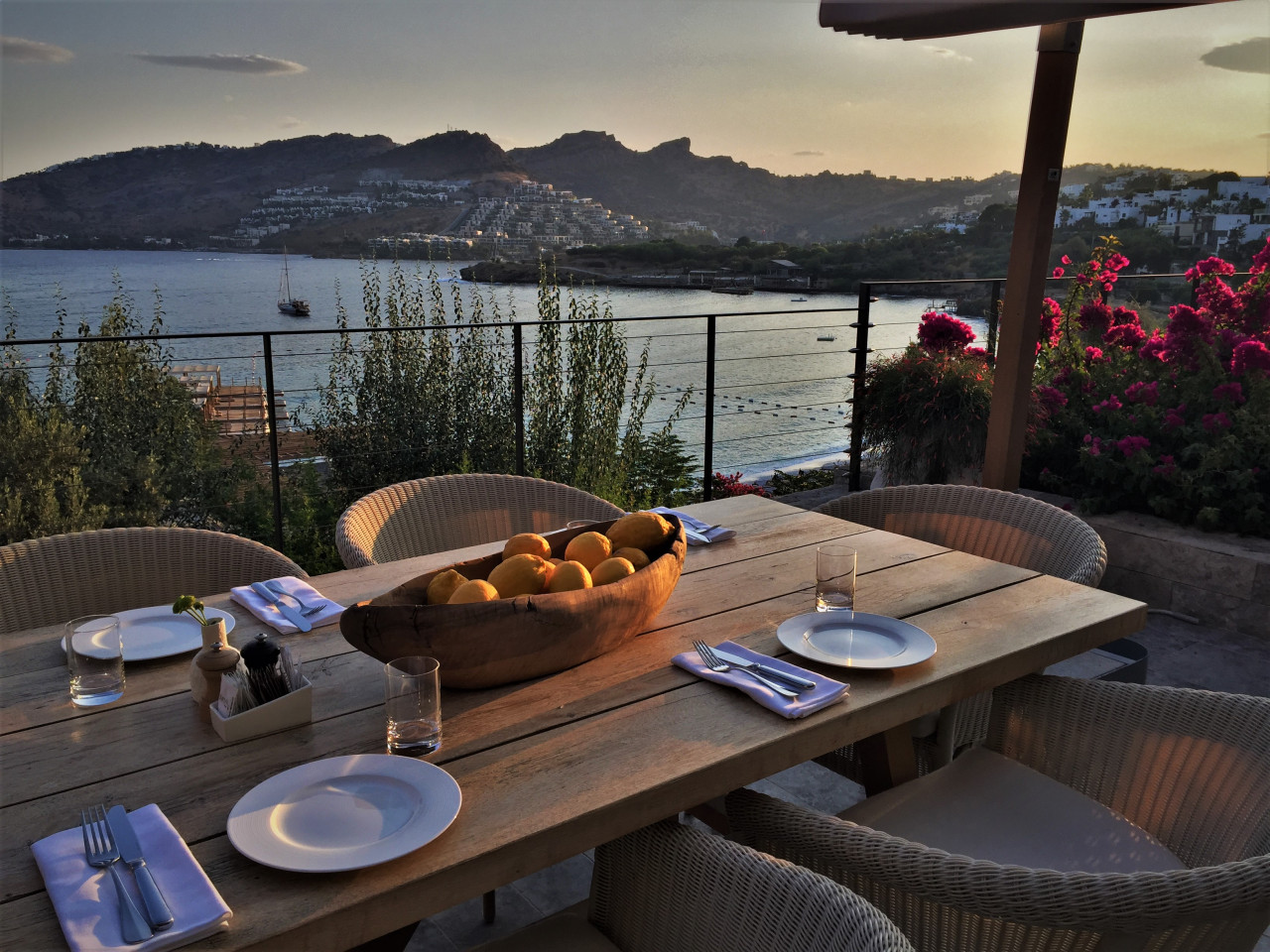 Friendly staff awaited us in the light and airy reception area adorned with palm trees and cloaked with white linen adrift in the ocean breeze. The abundant green olive groves along the walkways offset by the dry-stone walls made for a sense of antiquity. Gracefully balancing ancient Mediterranean design elements with a modern minimalist style created a gateway from the past to the present – a snapshot in time; a space where hours of lounging pass by freely and at the same time a place of eager expectancy.
The continuous views of the Aegean starting from the reception area all the way down to the beach is the crown feature of this 5-star property. The 108 rooms, lofts and villas cascade down the slopes with cobbled staircases running in between them.
The resort is ideally situated close to the Yalikavak Marina at the western point of the Bodrum peninsula with its vibrant night life and boutique retail stores. Perfect summer days consisted of lazing at the golden, sandy beach with a cocktail in hand or taking a dip in the turquoise water. The stunning high-rise infinity pool seemed to flow directly into the ocean, enabling one to quite literally lean over the blue horizon. The pool-side hammocks made for hours of blissful daydreaming.
Our room was elegant and modern, furnished in light and neutral colours. The finishes were neat and uncomplicated. We had a lovely patio with ocean view that included our own olive tree. The light bathroom had a luxurious tub. The room service staff were particularly attentive and friendly, ensuring our every need was taken care of.

Breakfast at EDITION's Kitchen Restaurant is somewhat of a ritual – an experience that should be savoured and not rushed, to be enjoyed any time at leisure between 7 am until 4 pm complemented a the splendid setting with views of the Turkish Riviera. It is a full house demonstration of what an authentic, Turkish breakfast experience is all about – an assortment of around 16 elegantly curated small plates and portions of all things traditionally Turkish, including olives, cheeses, fruits, vegetables, honey, homemade butter, homemade cream, traditional baked goods and much more to share and enjoy. Added to this then is your choice of choice of eggs, or healthy muesli, yogurt and fruits. Not to be missed are the 'elements breakfast shots' and very creative cold pressed juices which are very healthy and nutritious. Keeping up with the trends is the Ministry of Coffee which presents a wide selection for the discerning coffee connoisseur, boasting even a its very own Kyoto-style slow drip cold coffee brew. This method extracts the essential mineral components from the coffee beans through a process lasting several hours, resulting in a rich full-bodied coffee that is exquisite. It goes without saying that there is no rush this side of the Aegean.

No day would be complete without a visit to the spa area. The beautifully tranquil all-white spa has water flowing along the walkways and is as enchanting as it is relaxing. The spa is divided into a men's and women's section, each with hammam, dry sauna, steam room and salt room where one can unwind and rejuvenate. At the end of it all is a powerful jet pool for a relaxing aqua jet massage. The massage treatment areas are open-air and cater for couples massages as well.
Dinner at BRAVA was a refreshing experience! Chef Diego Muñoz showcases a daring yet perfectly balanced menu which combines innovate flavour combinations with nostalgic Peruvian tradition. Be sure to save room for dessert: surprising offerings such as the Caramelized Eggplant, Passionfruit & Coconut Cachanga dessert are sure to shift your culinary boundaries.
Life is truly beautiful at The Bodrum EDITION.
Reviewed by World Luxury Hotel Awards Representative: Mrs. Signe Da Silva
To book a stay at this beautiful property follow the link www.editionhotels.com/bodrum