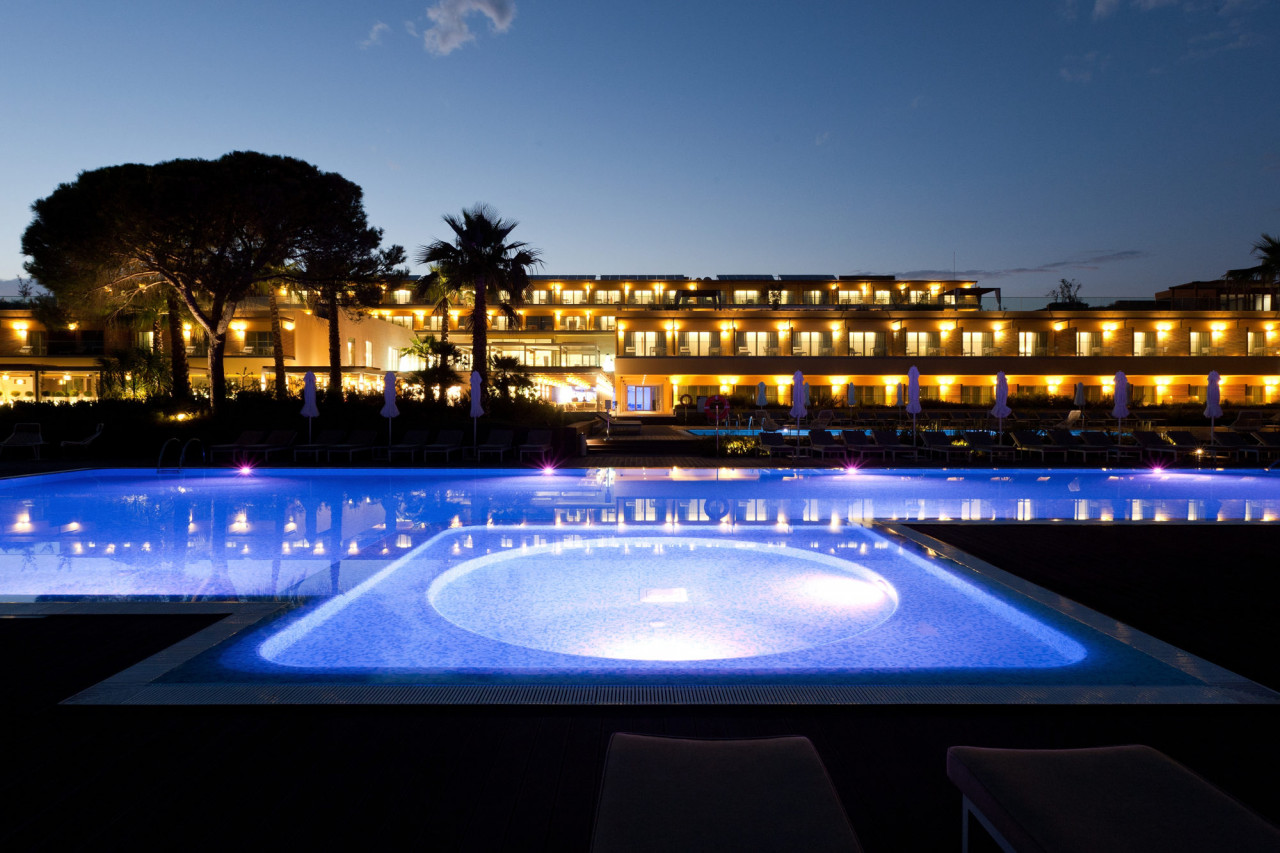 EPIC SANA Algarve is located on Falésia Beach, which is one of the longest, and most beautiful beaches in Portugal. We were checked in by Stefanie, who showed us all the hotel facilities on our way to the room.  She also helped us with restaurant bookings throughout out trip.
We stayed in a Grand Deluxe Garden Duplex Suite. The balcony overlooks a beautiful garden and over the trees you can see the ocean. Downstairs we had a big lounge area and a fully equipped kitchenette. We were also given a complimentary bottle of wine and a platter of chocolates upon turn down.
The gym is open 24 hours and has all the necessary equipment. It is right next to the indoor heated pool which is also open 24 hours. The spa is beautiful and also has a separate heated pool and a relaxation room.
Breakfast was great, all the food was so fresh and delicious. The chef made really good omelets. We also had a choice of sitting inside or outside in the sun, which was great. The Manager came to check on us every morning, it was great to have such personalized service and hospitality.
Every night in the main restaurant there was a buffet dinner and the cuisine changes each evening. The hotel is also located within walking distance of many local restaurants and shops.
There is a beautiful wooden pathway leading to the beach with amazing views. There is also a "love tree" in their garden which is great for couples. There you can hang up a wooden heart and write your personal message on it and leave it to hang on one of the tree's branches.
The hotel has two outdoor swimming pools and one is for adults only. So, it's great if you want some peace and quiet. And if you're with kids you can relax at the family pool.  There is also a nice restaurant next to the pool which is open for lunch and dinner.
The hotel is so peaceful and relaxing, we really enjoyed every moment at the hotel and hope to visit again soon. A huge thank you to the EPIC SANA team for making us feel so relaxed and at home.
Reviewed By: Kayla Lourens – World Luxury Hotel Awards Representative
To book a stay at this stunning Property
www.algarve.epic.sanahotels.com: