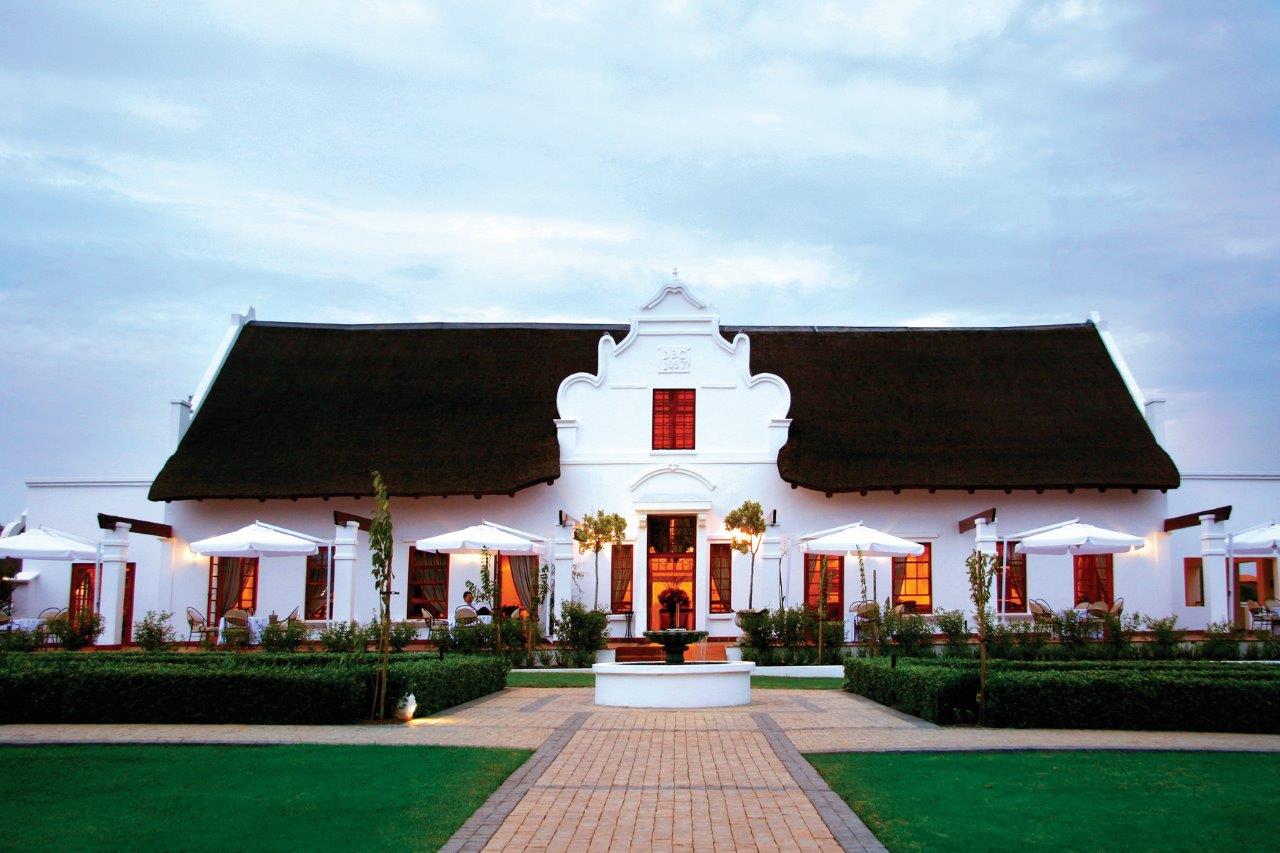 Upon arrival at Kievits Kroon I was greeted by the very friendly security at the big swinging gates to what looked like an exclusive and very pretty estate in the middle of the bush. The guards signed me in and directed me to the reception building. Driving into the estate it became clear that this was not like any normal hotel. Instead its more like a resort, with pretty trees and well-kept green lawns under which people were having picnics. It really did look like a place you can come to and just relax!
I parked my car and walked to the reception building where I was greeted by another very friendly staff member behind the reception counter. She informed me that I will be staying in one of the two VIP suites and I was instantly even more excited to see what Kievits Kroon had to offer. My room was not ready yet, but It turned out well as they had an opening for a full body massage immediately at their well renowned spa.
While they were getting my room ready, I enjoyed a wonderful Pinotage full body massage. Having been up since 4am to catch a flight from Cape Town, renting a car at OR Tambo and then driving 45min to the hotel, this was just what the doctor ordered. There were some snacks, juices and fruit flavored water waiting for me as I entered the spa. The lady behind the counter was again super friendly and made me feel right at home. I was very impressed with all the staff from all the different departments. My massage was amazing and I felt refreshed afterwards. I also had access to the jacuzzi, sauna, steam room and heated pool.
I checked into my room which as it turns out is more like a small apartment on the outer parameter of the estate. Completely private and with its own parking space. The room had a jacuzzi bath, two TV's, a lounge area and a spacious room. All inside a beautiful Cape-Dutch stile building. There were also two outside porch areas where you can sit and enjoy some of the complimentary sherry provided in the room. Right next to my room was a helipad. Being a helicopter pilot myself, this really excited me. I love to fly to all the different wine farms in and around Cape Town and I'm always looking for places offering those with the means to do so an opportunity to skip traffic and fly in. I was really happy to see that here in Pretoria you can do just that at Kievits Kroon.


Breakfast the next morning was a full buffet. And I do mean full. From scrambled eggs to oysters. Anything you could think of for an amazing breakfast was on the spread. I really enjoyed my breakfast and decided to head back to the room for my costume and go relax by the pool area.
The restaurant was fully booked when I arrieved, so the waiter asked me to sit at the bar area next to the restaurant and they would serve me there. I didn't mind this at all as it was really comfortable sitting outside and the view of the beautifully kept green lawns and big trees was just great. I ordered a chicken wrap and something to drink. The weather was warm and the view was amazing.
In conclusion, Kievits Kroon is a beautiful and peaceful venue for escaping the rushed city life. Whether you are looking to stay for a weekend, have a business conference, go for a spa day or just have a romantic picnic with your better half, Kievits Kroon really does offer it all.
Reviewed by World Luxury Hotel Awards Representative
To book a stay at this beautiful property simply follow the link: www.faircity.co.za