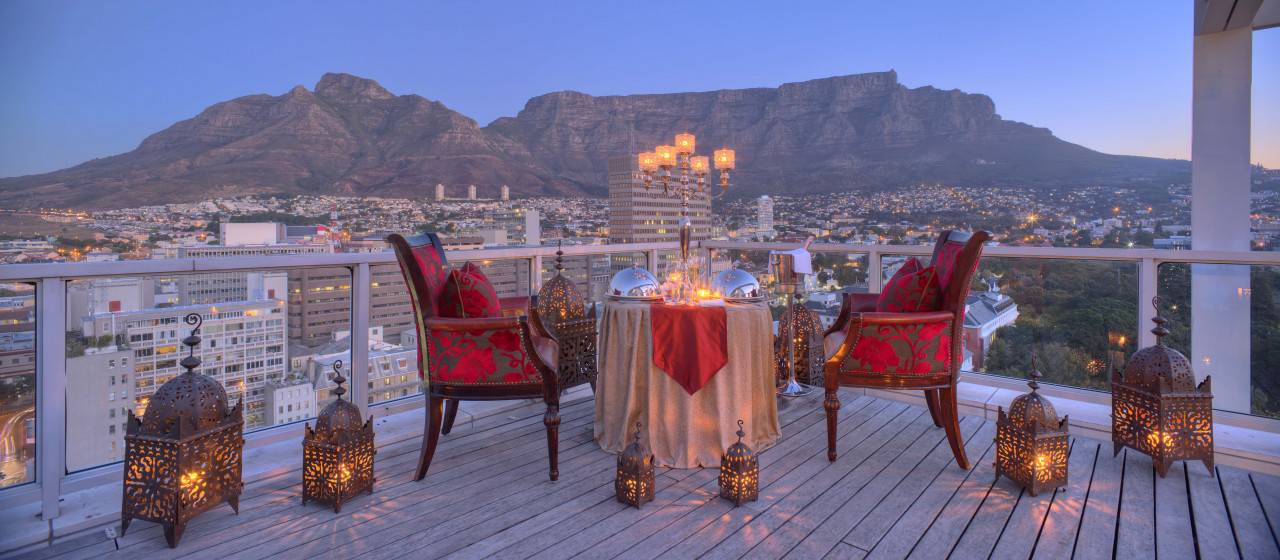 Situated in the bustling Cape Town City Centre, The Taj hotel is within close distance to all local attractions.  We arrived at the Taj on a rainy Friday afternoon. The Staff warmly greeted us with umbrellas and took care of parking our vehicle. Entering the Taj is like entering another era; the grandeur and splendour of the lobby area simply takes your breath away.
After a smooth check in we were escorted to our room. We stayed in a Luxury Room in the King Tower wing with a view of Table Mountain and the bustling streets below. We were greeted with a welcoming snack of nuts and fruit, a bottle of white wine and note from the General Manager. The room was spacious with elegant designs and finishes. The bathroom for me was simply stunning with the perfect layout and marble finishes.
After settling in we headed to the lobby to enjoy an afternoon tea and snack while listening to the rain fall outside.
The fitness centre at The TAJ hotel is one of the best I have experienced. State of the art equipment including free weights and stretching equipment made for an intense training session. Fresh towels and water are available at each machine. There is also an indoor heated swimming pool if you wish to get in a few laps.
Dinner at Mint Restaurant was absolutely fantastic. Friendly staff, efficient service and a menu that will satisfy any craving made for the perfect evening. There was also live jazz music which added to the ambiance.
After a good nights rest in the King size bed we enjoyed a Buffet Breakfast which was incredible. From every cereal imaginable and English breakfast options to sushi and a variety of pastries we had it all!
Jiva Spa was the absolute highlight of our stay. We were treated to a 60minute couples Indian Aromatherapy massage. This was an amazing and relaxing experience from start to finish. A special thank you to Bianca who was my therapist – she has magic hands!
Overall my experience at the TAJ Cape Town was incredible. From Check in to check out everything was perfect. The staff are friendly and welcoming, the facilities are world class and the food is superb. I left thoroughly refreshed and would highly recommend the TAJ Cape Town to anyone visiting South Africa and hope to visit again soon – one night is just to short!
Reviewed by Tanique Echardt – Executive Manager of the World Luxury Hotel Awards
To book a stay at this incredible Hotel: