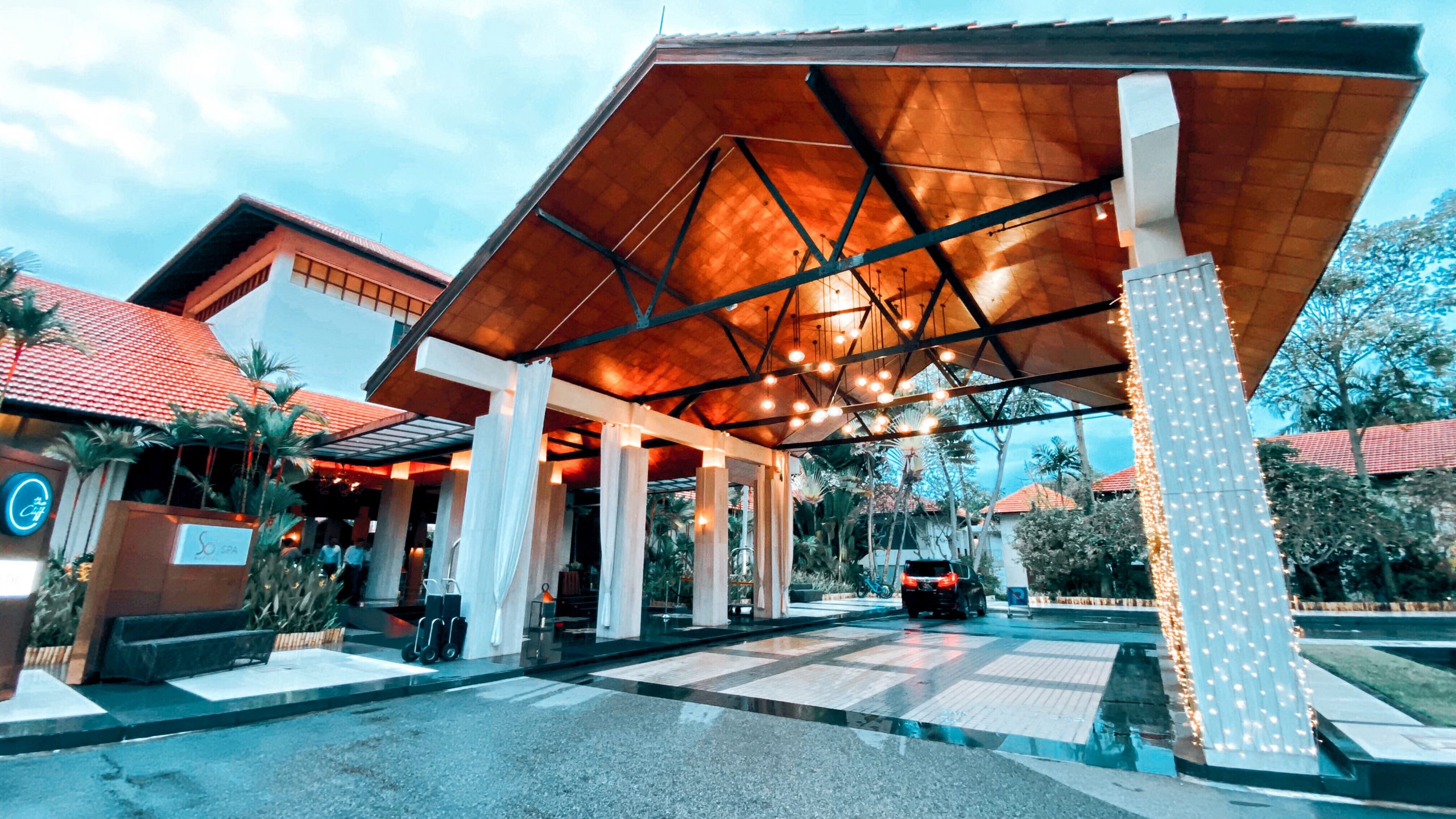 A five-star luxury resort located on Sentosa Island, Singapore
The moment you walk into Sofitel Singapore Sentosa you feel instantly relaxed. It is a haven of tranquility and peace. The design, the décor, the ambience, it all represents luxury and opulence.
The staff are extremely welcoming and are happy to attend to your every need and desire.
The resort is located on the Southernmost tip of Sentosa island and has access to Tanjung Beach. The resort is perched on a cliff and is surrounded by lush greenery; a tropical ambience and the décor perfectly blends Singapore and France's heritage.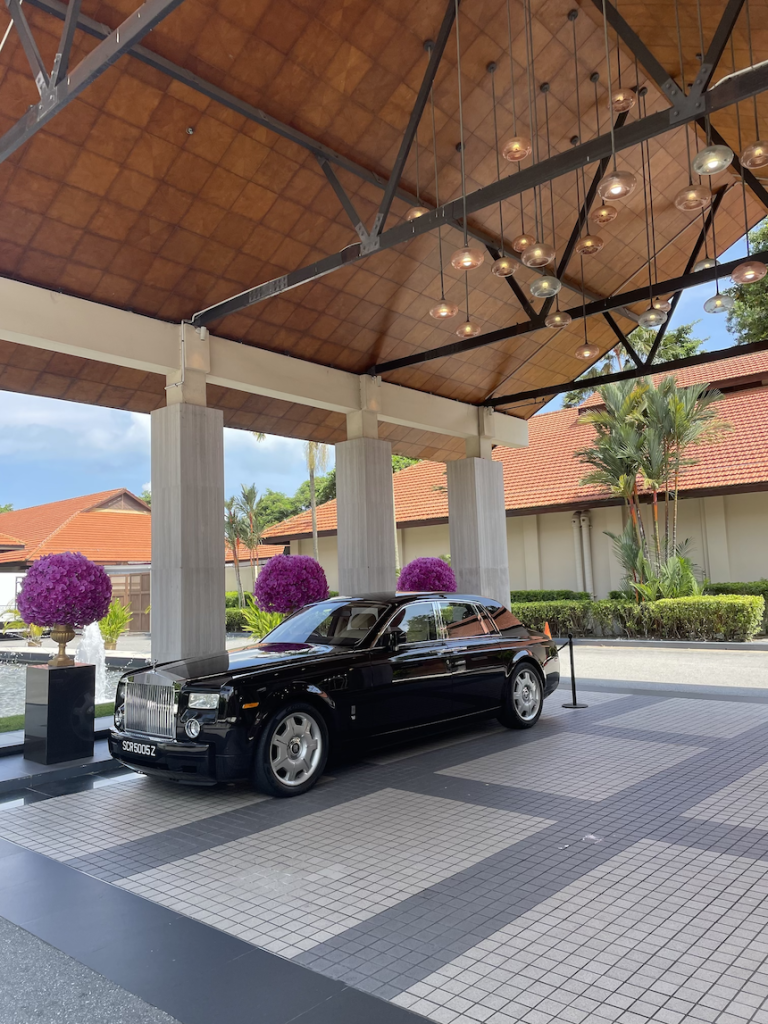 The resort is the perfect place to relax and unwind, and it also offers many activities for those who want an active vacation.
Sentosa Island is home to the famous Universal Studios, as well as multiple scenic beaches and international restaurants. Sofitel Singapore Sentosa is the perfect place from which to explore the island. The beach and adjacent establishments can be easily accessed via the resort's staircase, which also boasts a stunning view of the South China Sea.
They also offer a complimentary shuttle service to and from the Resort every half hour, which stops at the Harbourfront MRT station on the mainland, from which one can venture into the city.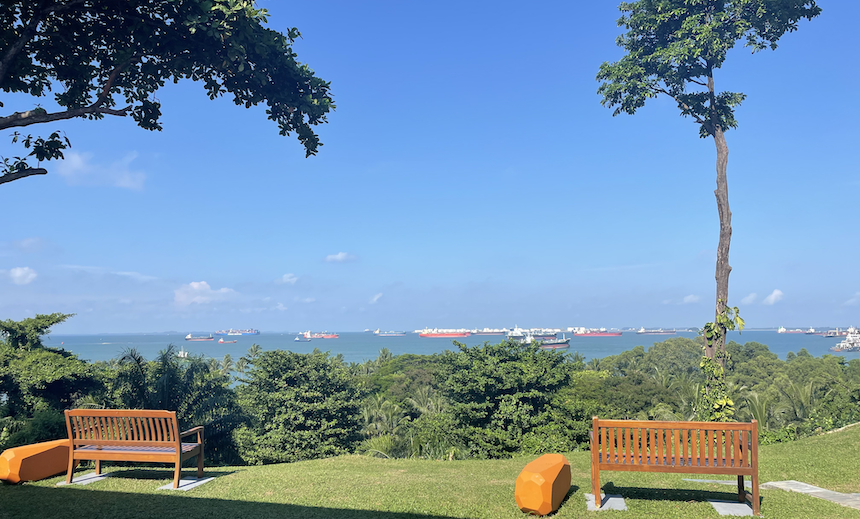 The front desk staff made check-in a breeze, and also provided me with their shuttle schedule, weekly activities and dining options. The Marketing manager showed me to my suite, which was in their tranquility wing. On the way to the suite, she explained some of the resort's décor pieces and significant design touches. I really appreciated the warm and personalized welcome. The resort definitely had a Balinese feel to it, and the architecture was incredibly impressive.
I booked their Junior suite which had a comfortable king sized bed, a spacious lounge area, and beautiful décor. It is an open-concept suite with a lavish bathroom complimented by Balmain amenities.
The housekeeping staff go out of their way to make your stay special, and even left me a handwritten card on my bed.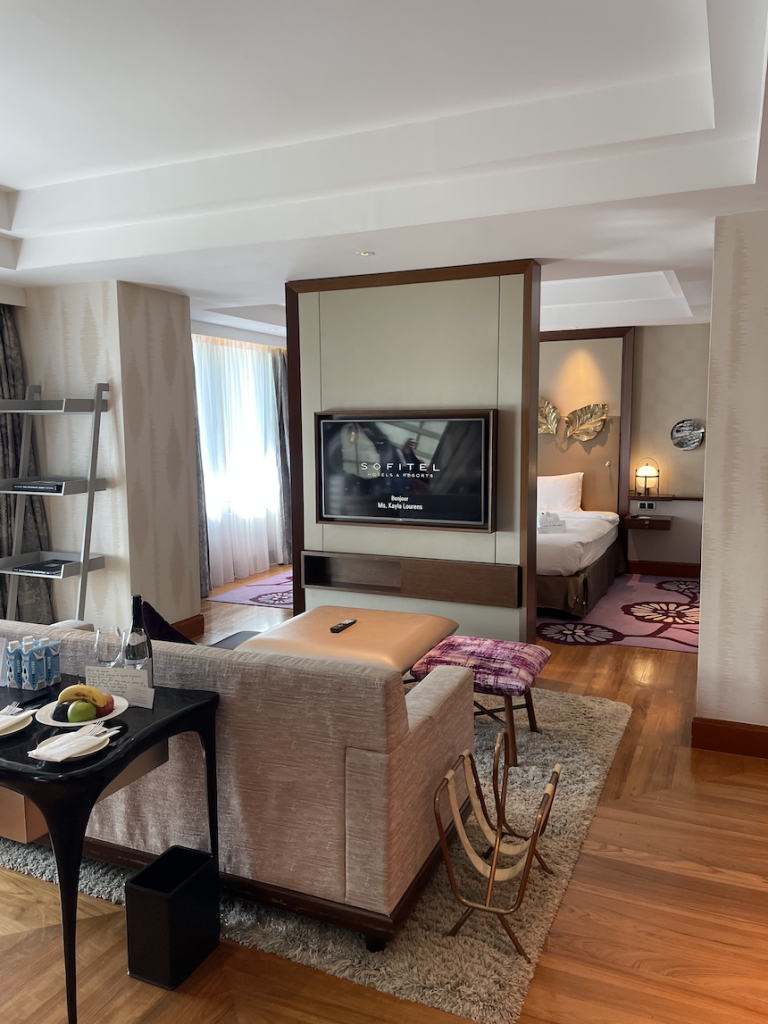 The room was thoughtfully put together with clear French touches, making it feel very classy.
The bed linen was plush, and the sheets were smooth; I slept very well throughout my stay. Next to the bed, there are multiple different power sockets, which was very convenient.
A QR code is visible at the desk, which allows you access to their online platform including their room service menu. The entire resort also offers high speed Wi-Fi.
This was the perfect place to escape the city life and have a luxury staycation where I enjoyed both French and local influences.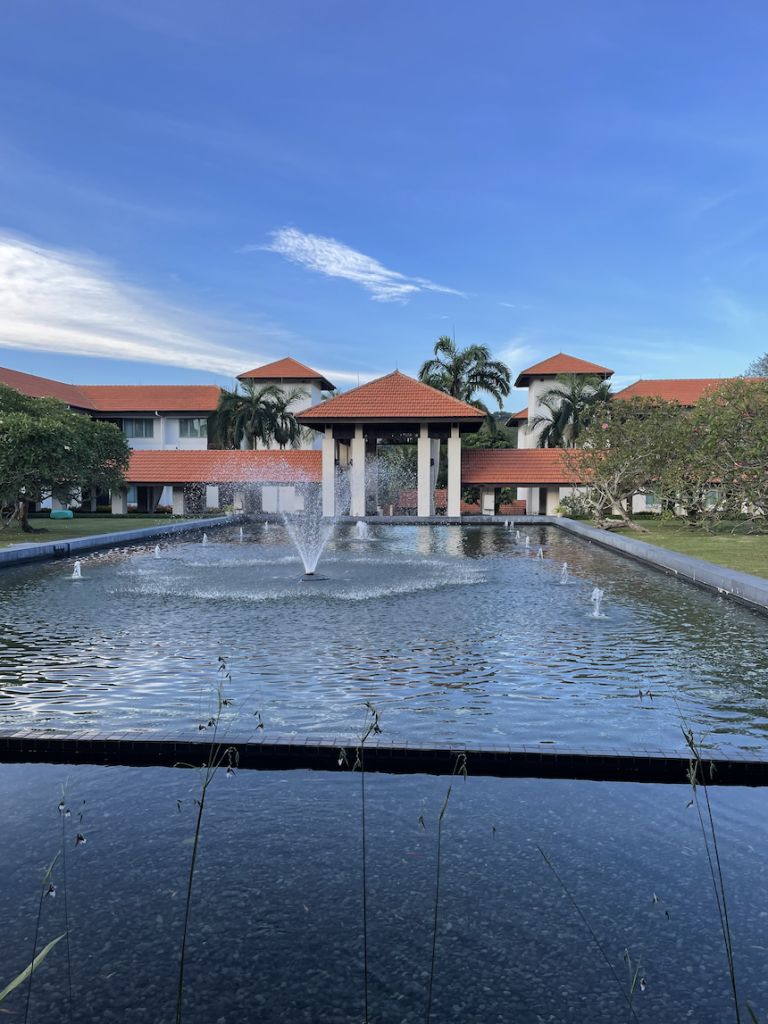 As you wander around the resort, enjoy the refreshing breeze and views of the ocean and beyond. While walking around be sure to look out for the resort's resident peacocks.
The recreational facilities at the resort make it the perfect place for a weekend getaway. This resort is suitable for leisure travellers, business travellers and even those with pets!
The resort has a new herb garden which is very well maintained and is part of the resort's sustainability efforts. The herbs and vegetables such as basil, tomatoes, and lemons, are used in the hotel kitchen. Sofitel Singapore Sentosa has multiple sustainability efforts, in line with the Singapore government's green plan for 2030.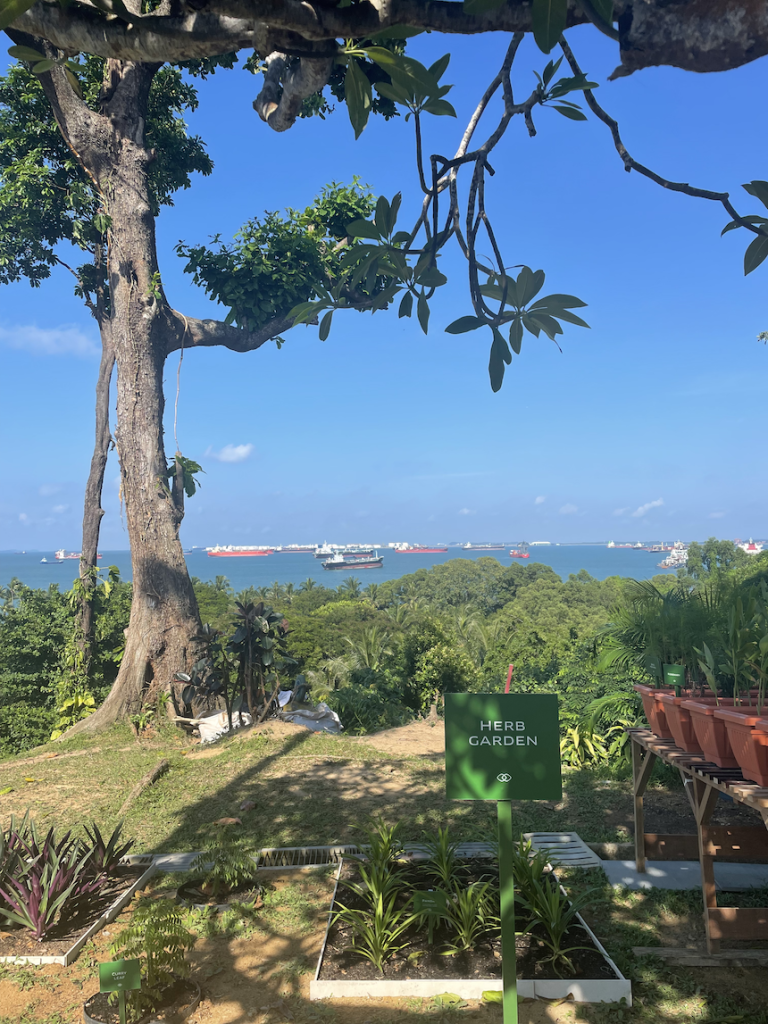 The resort gym is located in the middle of the property and is well equipped for any type of workout.
The SO/Spa was one of the highlights of my trip. The spa is luxurious and has multiple pools and spa facilities. The spa has a lap pool with sun loungers, and they have indoor hot and cold jacuzzis, as well as a Turkish steam room. If you are on a couple's holiday, be sure to book their romantic package and have your treatments in their couple's room which features a private jacuzzi bath.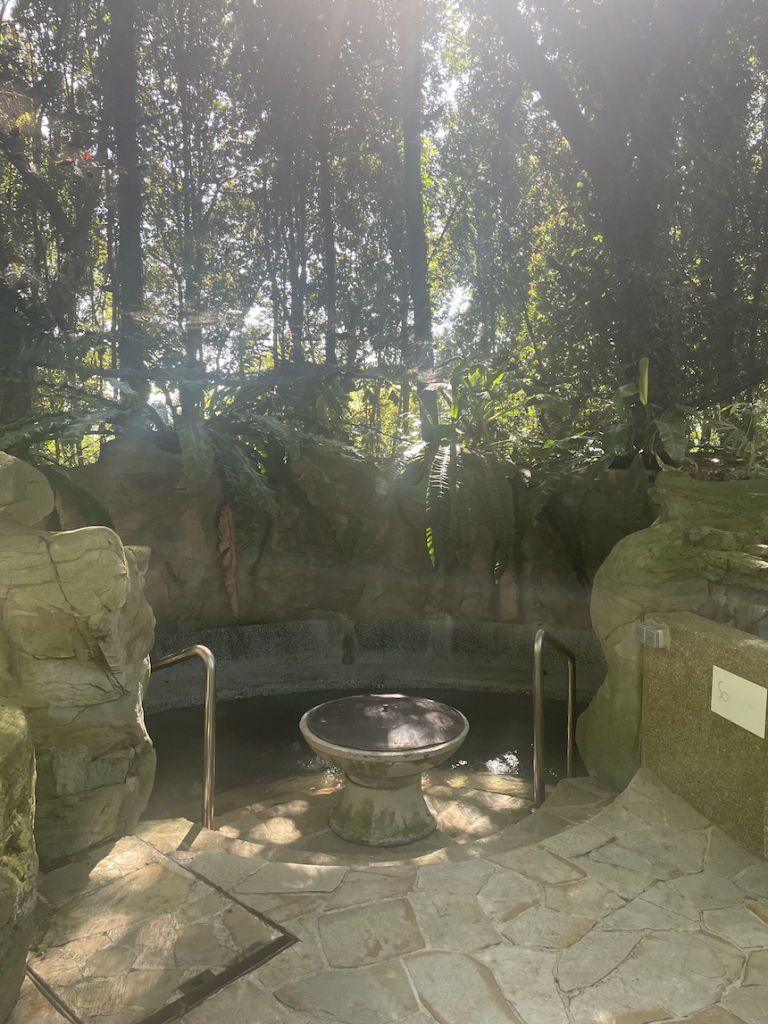 Their pool is an instagram-worthy spot, with a waterfall feature and surrounding greenery. Their therapeutic body wrap experience is a must-try, where you lather on a special mud masque all over your body and leave it on for a few minutes, then enter the mud pool to soak it off, leaving your skin soft and smooth.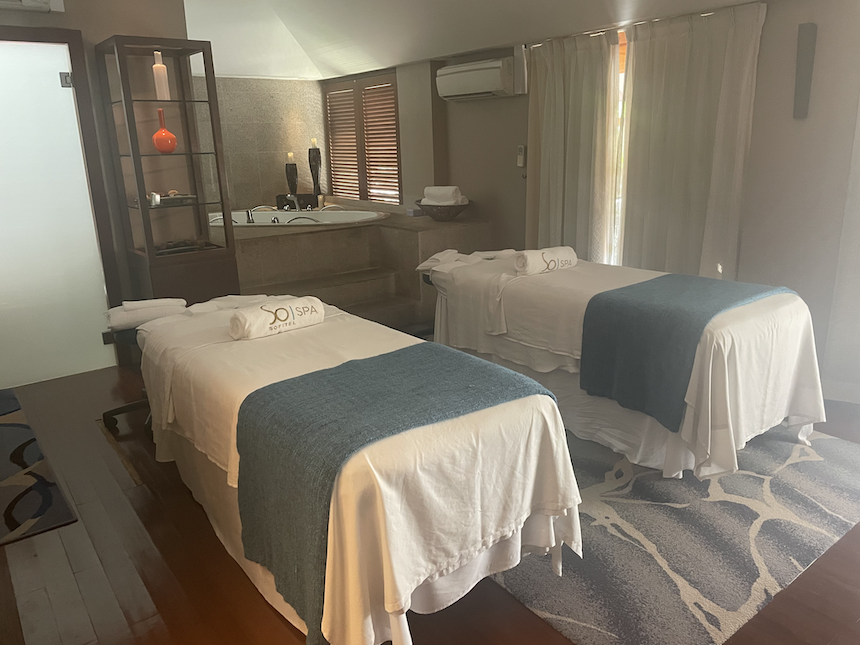 What's better than a staycation? A staycation with your pets. Sofitel Singapore Sentosa is pet-friendly and has a special "FurKid" package for those who want to bring their pets. They even offer special dog food menus at the restaurant. I spotted a Pomeranian at breakfast, and it made my day.
The resort is also an ideal destination for MICE events, meetings, and weddings. They have a grand ballroom and multiple meeting rooms. It is a stunning location for weddings, with multiple outdoor and indoor venues and great photo spots!
The hotel's main pool is the place to be during the day. They offer single lounge beds as well as comfortable double lounge beds. Relax around the pool whilst enjoying the sounds of the birds and palm trees around you.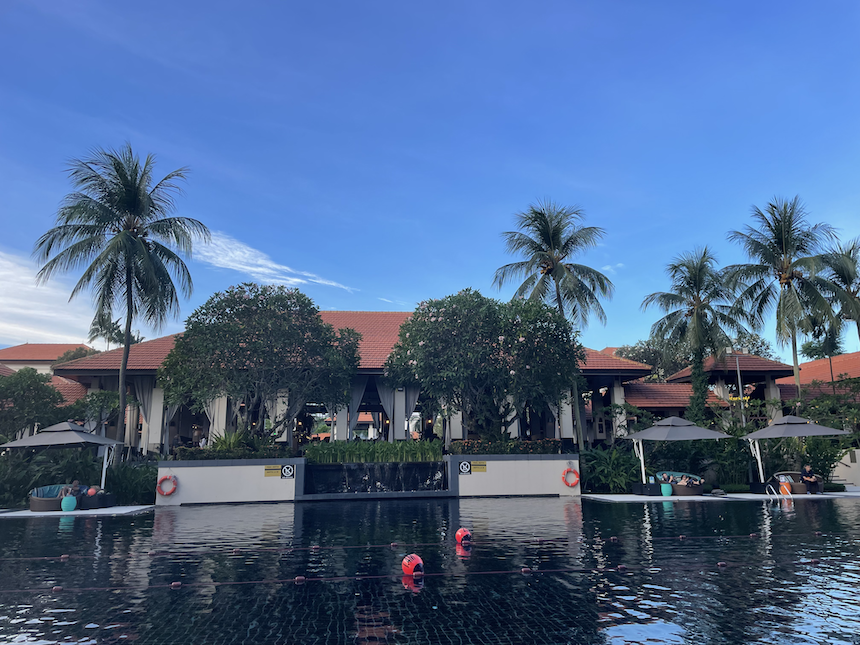 A rare and surprising feature of the resort is their fish spa, located next to Le Bar. The pond is filled with "Dr. Fish", a special fish breed that nibbles on your feet, getting rid of your dead skin. The kids completely love this feature, and it adds to the many reasons why this property is one-of-a-kind.
Le Bar, located in the heart of the resort, offers a daily 1-for-1 cocktail happy hour and is a great place to enjoy an afternoon or evening drink. The bar lights up at night and has lively music playing.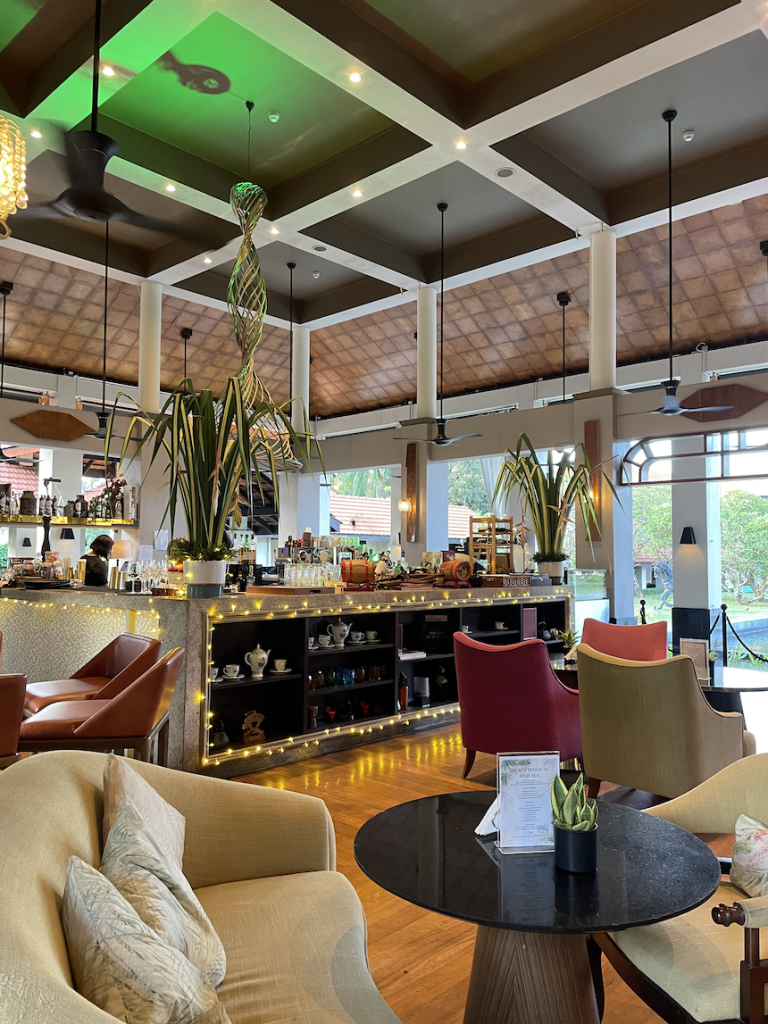 Kwee Zeen is the resort's all day dining outlet and offers delectable local cuisine and international favourites. For dinner, I had the beef cheeseburger and French fries, which had to be one of the best burgers I've ever had. I went to bed with a very full and satisfied stomach.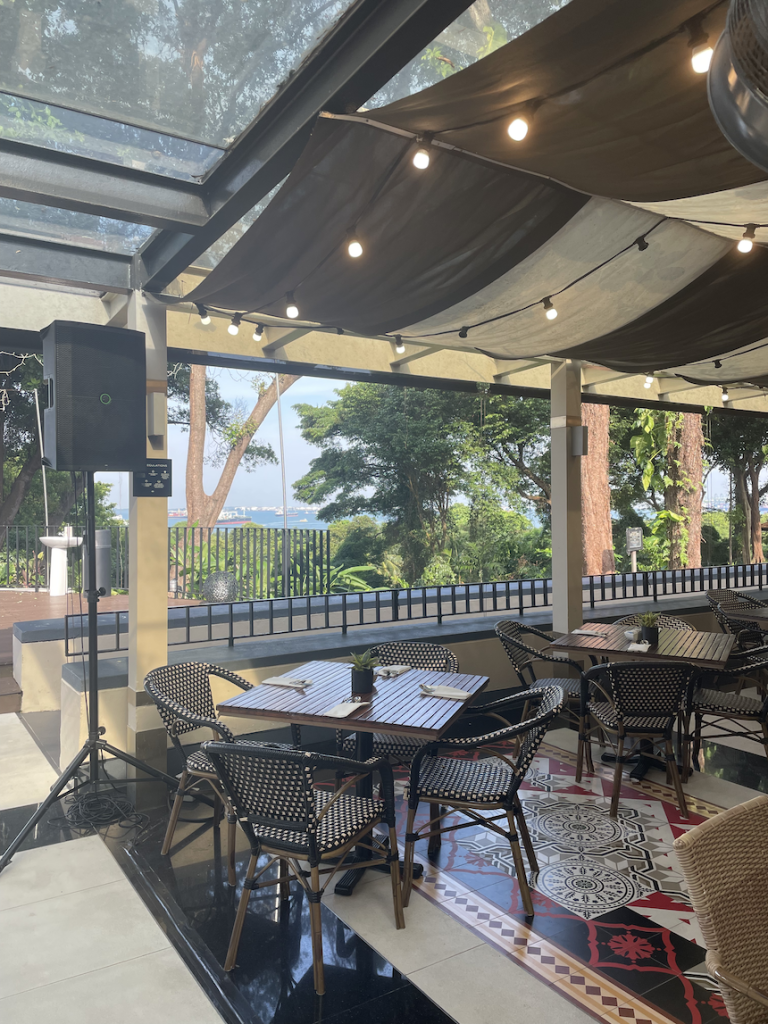 Start your day the right way with the buffet breakfast at Kwee Zeen, which features a made-to-order egg station, an Indian cuisine station, cold meats, and more. You can choose to sit inside with air conditioning or outside with the ocean breeze (and view). The breakfast offers multiple hot and cold dishes and a great selection of fresh pastries. The bread-and-butter pudding was so tasty.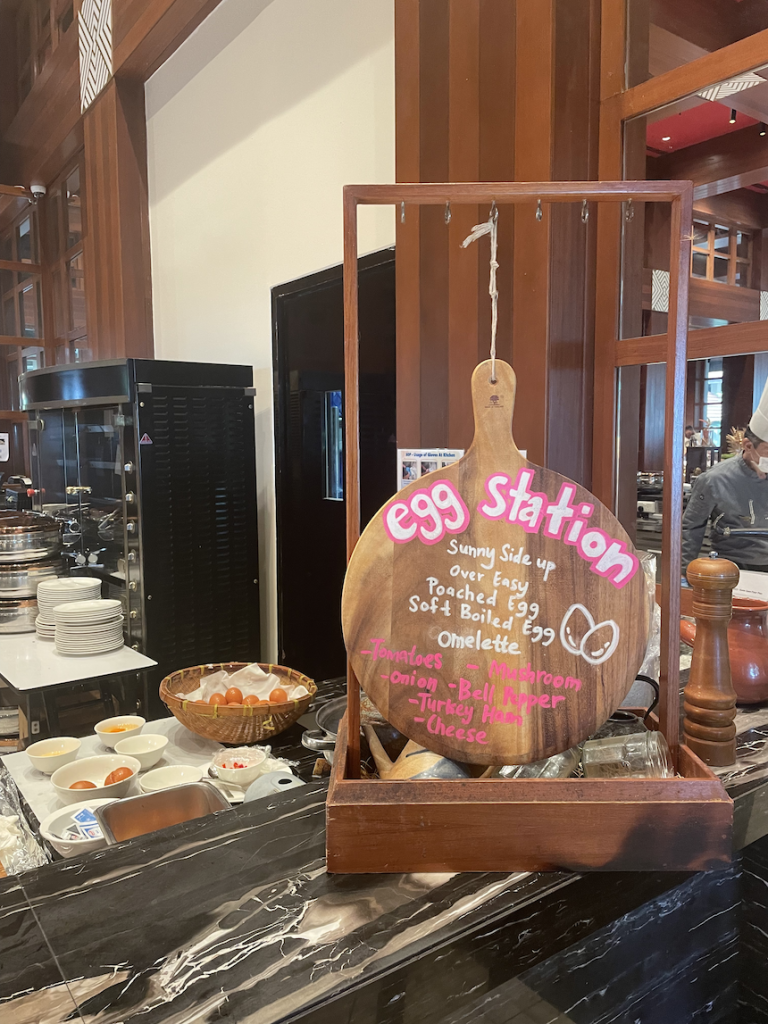 Their other dining outlet is The Cliff, a restaurant with a delectable Italian menu. Pasta and Tiramisu, the perfect dinner combination.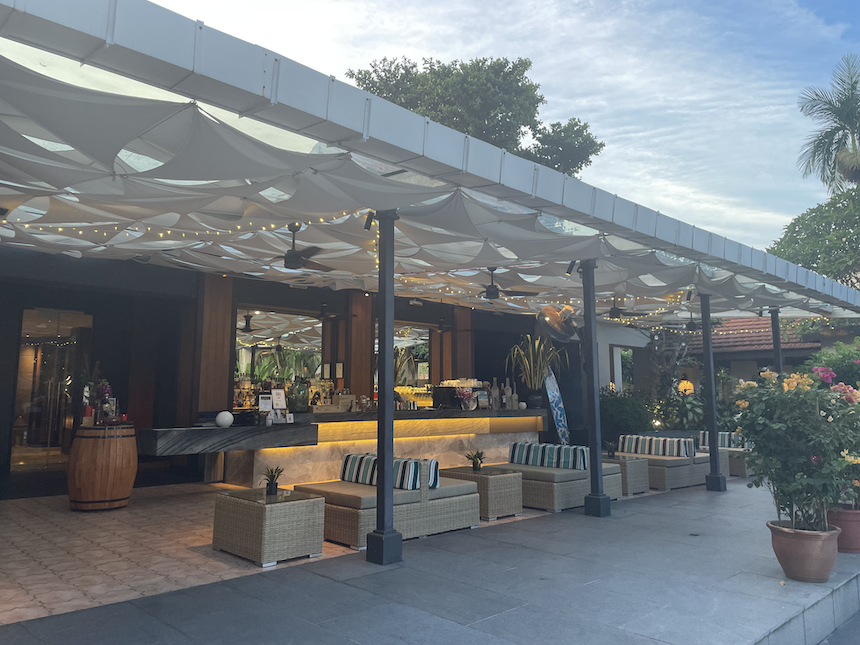 I felt very cared for during my stay, the staff were attentive and their hospitality was of superior quality.
The Sofitel brand has French flair, and this resort lives up to the Sofitel name. It's definitely an exceptional experience in Singapore.
The resort has multiple water features and fountains, which makes for a peaceful experience whilst wandering around the resort grounds.
On the one side of the fountains there is a lion statue, which resembles Singapore's heritage, and on the other side there is a horse statue, which symbolizes French heritage. These special design details add to why the resort is so unique.
The resort staff were attentive, polite, and always had a smile on their faces. They also gave me great recommendations for shopping and nearby attractions.
I would consider Sofitel Sentosa a hidden gem in Singapore, and an absolute must-visit. It is the ultimate accommodation on Sentosa Island.
Thank you to all the staff at Sofitel Sentosa who made my stay out of this world. I look forward to visiting again.
Reviewed by World Luxury Awards Representative, Kayla Lourens
To book this resort, visit their website: www.sofitel-singapore-sentosa.com