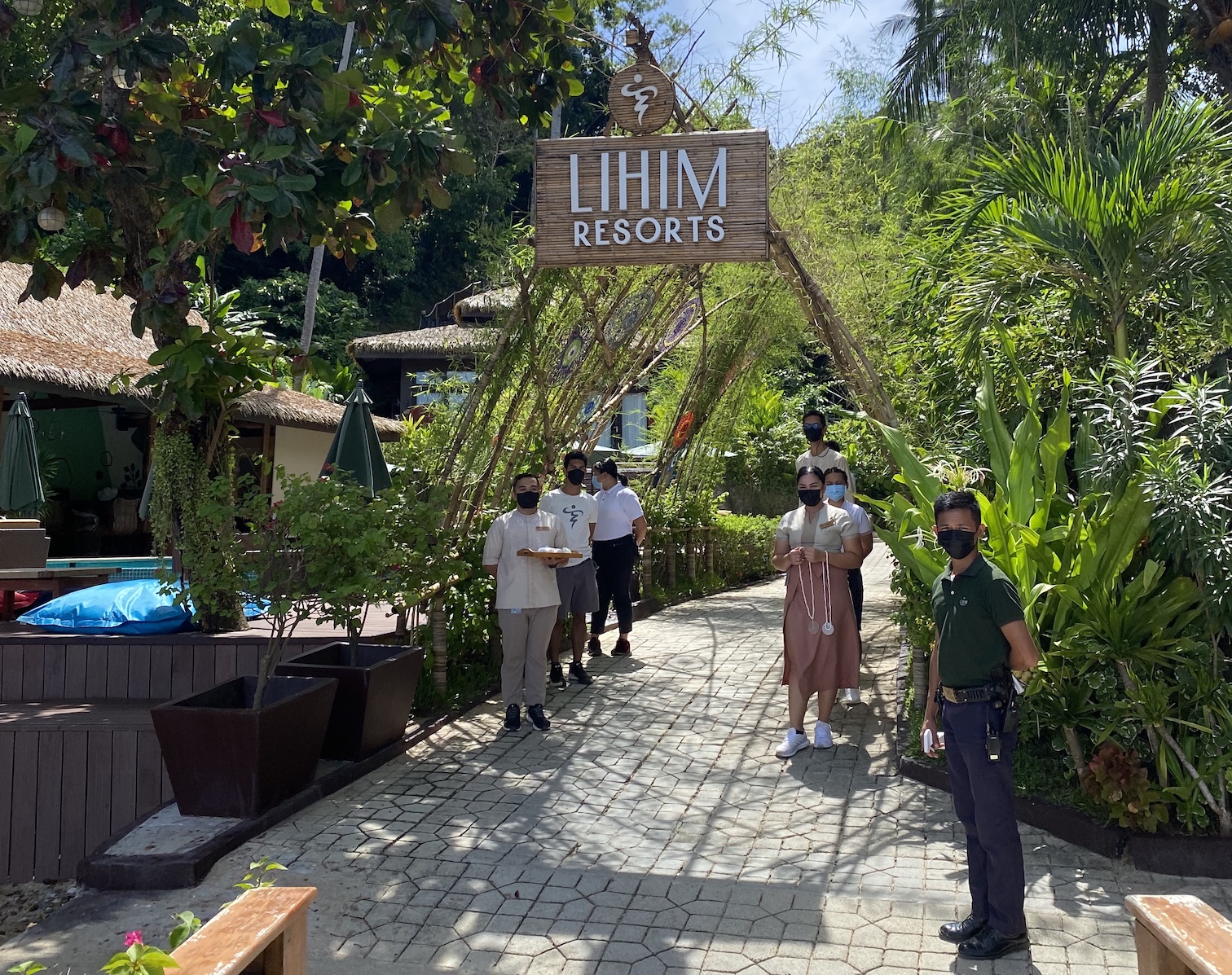 Lihim Resorts is situated within a pristine forest and can be described as a secret hideaway. From the outside you can barely make out that it is a 28-hectare resort, as the villas are tucked away into the natural lush greenery.
Lihim is reached by a short five-minute boat trip from El Nido Port and has breathtaking views of Bacuit Bay.
Upon arrival, I was greeted by the entire Lihim team including my personal butlers, Emman and Jessica. I instantly felt at home and was offered a fruity local welcome drink and a cold towel. My butler assisted me to my villa which had stunning views of Bacuit Bay. Lihim offers a convenient express check in service, allowing guests to proceed straight to their villas instead of having to wait in the reception area. Instead of a room key, I was given a wristband which electronically opens the door. This small innovation removes the stress of having to worry about a room key/card for the duration of your stay.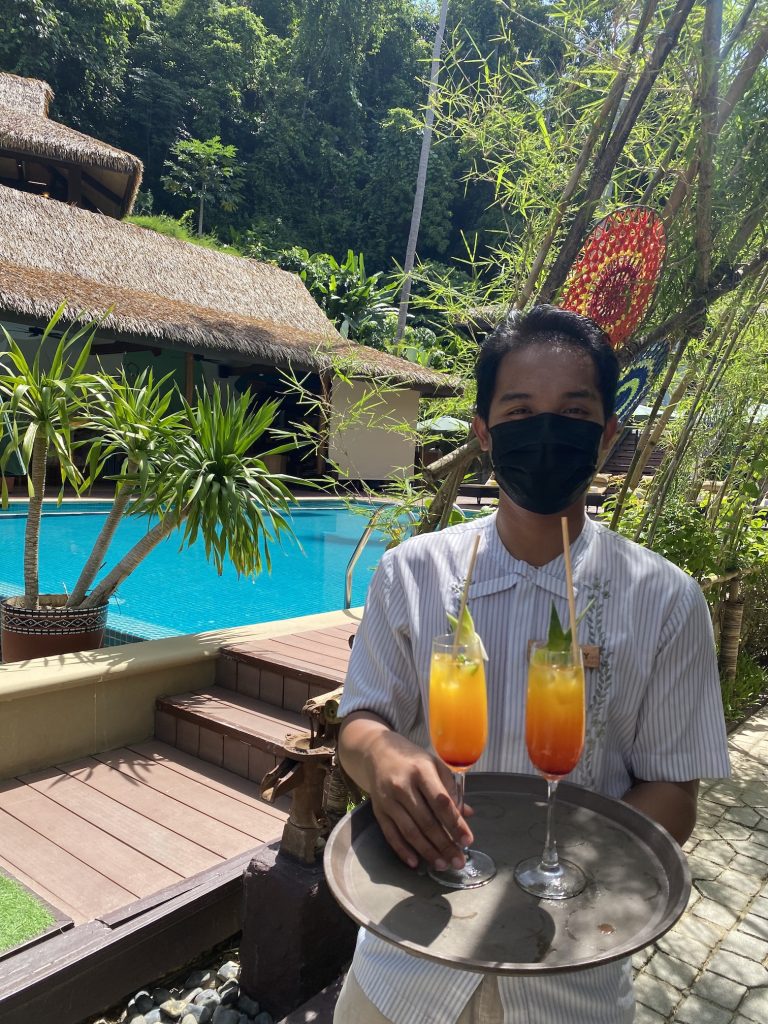 The room was perfect. The high ceiling made the room feel extremely spacious. There were sliding doors on either side of the king-sized bed leading out onto the terrace. This allowed for a lot of natural light to come into the room as well as spectacular ocean views whilst lying in bed. The bathroom was huge and boasted a view of the ocean. It had a freestanding bathtub in the middle as well as an indoor and outdoor shower.
The rooms at Lihim Resorts are all villas and each villa includes a personal butler. The villas are named after the islands in El Nido. Many of the villas are perched high up in the forest and can be reached by the funicular or the buggy. The funicular is a unique feature that is much like a cable car and makes every villa easily accessible without having to climb numerous flights of stairs.
After a full day of island hopping, I returned to my villa and the staff had run a bubble bath for me with a bottle of wine next to the bath. It was such a special surprise. The butlers really go above and beyond their duties for their guests and help create lasting memories.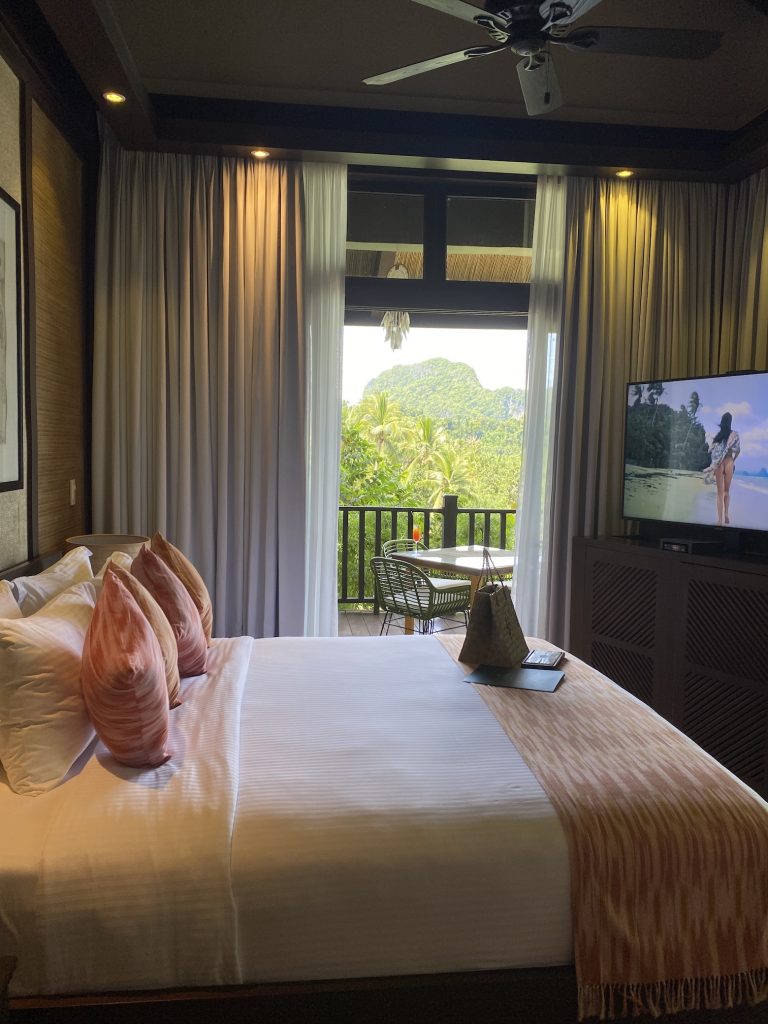 What makes the Lihim experience truly special is the butler service they offer, which is a designated staff member who looks after your every need. The butlers are reachable via instant message and are available 24/7. The butler service really makes your stay so relaxing and carefree. They prepare an itinerary for you before arrival and ensure all your allergies and preferences are noted. This itinerary can be changed throughout your stay.
A truly memorable touch was the personalized bamboo water bottle given to me by Lihim which had my name engraved on it. This was such a unique gift, one that I can take with me wherever I go, and it will always remind me of my stay.
Secluded and intimate are two words that best describe this resort. You really feel in touch with nature. The resort has multiple viewing points and nature walks around the property. Wherever you go, there is natural beauty surrounding you, whether it be the sights, sounds, or smells.
The housekeeping was impeccable, as soon as I left the room, a staff member was in to clean. Whenever I entered the room, it was tidy and re-stocked.
Lihim Resorts have the luxury of three secluded and scenic spots on Cadlao island. These spots include private beaches and a private lounge nestled in the Cadlao lagoon. The lounge is reached by a short, picturesque boat ride and is the perfect day activity. Cadlao lagoon has the clearest water and age-old limestone cliffs which makes for a spectacular setting.
Lihim offers day trips to the lagoon which includes a delectable Filipino style lunch and a knowledgeable tour guide who, incidentally, is also a great photographer. There are multiple activities available at the lagoon, such as kayaking, snorkeling, and stand-up paddling.
Gana is Lihim's main restaurant and offers a culinary adventure with fresh ingredients from Lihim's very own farm. All meals served at Gana are a la carte, including breakfast. Alternatively, you can have your meal served in the comfort of your own villa. My butler set up the outside table at my villa with a delicious breakfast spread. The view of the ocean and sounds of the birds made the breakfast experience even more extraordinary.
Lihim offers exclusive private dinners in multiple beautiful and secluded spots around the resort. These dinners will be offered to you by your butler in a set menu format which can be tailored to suit your specific wants and needs. I opted for a candlelit dinner next to the pool, affording me uninterrupted views of the ocean. It was the most fairytale-like, romantic evening under the stars.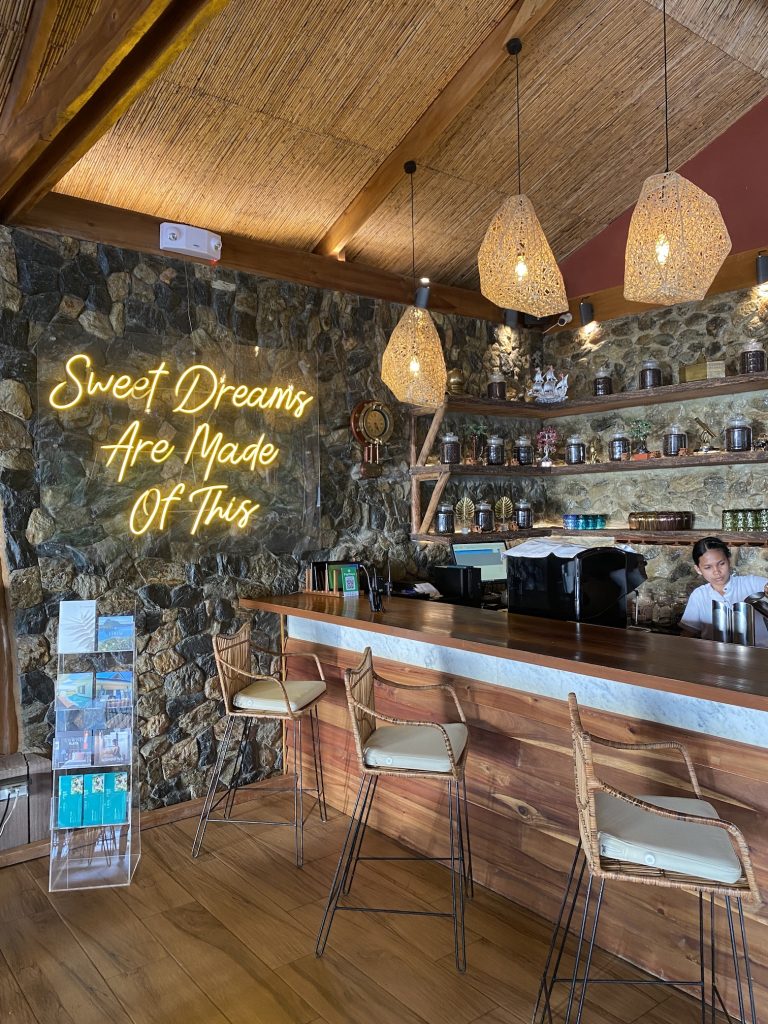 There are numerous lounges spread throughout the property, each has its own striking view and atmosphere. Each lounge's ambience is created through the rare ornaments, statues, and art pieces collected by the owner from various trips around the world. One can spend hours exploring the grounds.
A hidden gem on the Lihim property is 'The Cellar'. A small room that houses their collection of fine wines and luxury cigars. The Cellar is also a romantic and intimate dinner location. Not to mention the resort has its own exclusive collaboration with Moët & Chandon.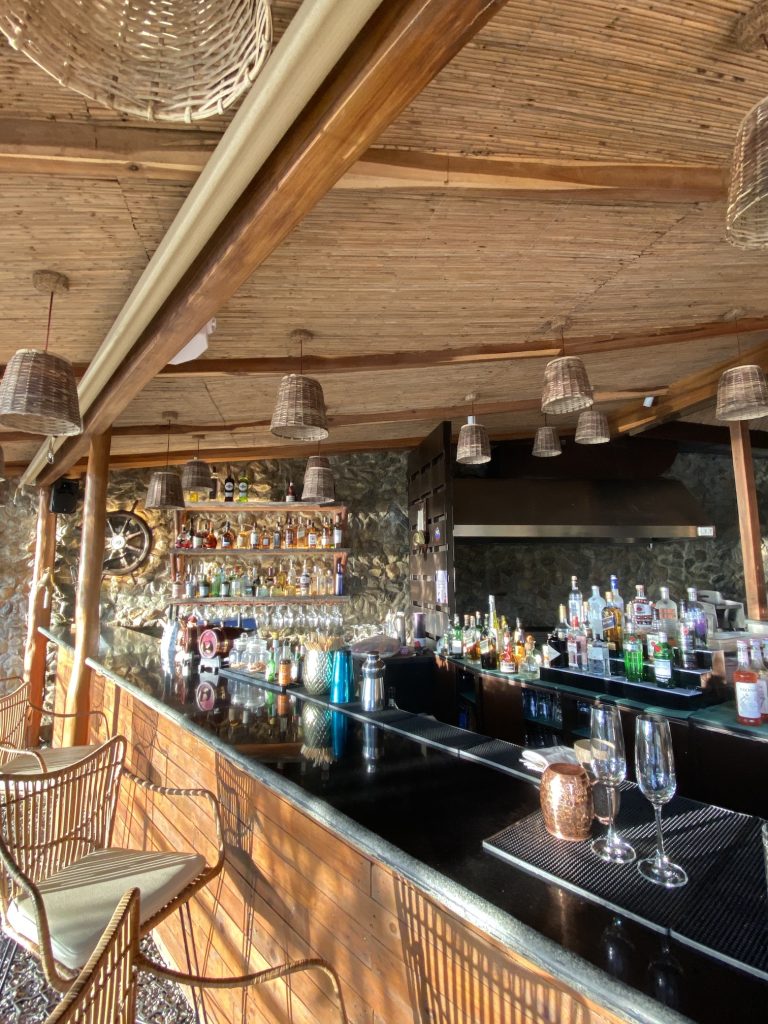 The resort boasts a tennis court as well as a basketball court with a stunning backdrop. The tennis court coincidentally is the only one in El Nido. The resort also has a fully equipped gym, perfect for the traveler wanting to maintain their exercise routine. In the resorts efforts to cater for all your needs, they can bring certain gym equipment to your villa for you to complete a home workout if you wish. These include the ergo (rowing) machine, watt bike, and freestanding weights.
The swimming pool is the perfect sunset location. Relax in the pool with a cocktail in hand, watching the picture perfect El Nido sunset. The sunsets are like something you only see on postcards.
The resorts' Panari Spa, which appropriately means 'rest', has one of the most diverse and extensive treatment selections on offer. Not only does the spa offer massage and beauty treatments, but they also offer widespread health and wellness treatments. These include IV drips, hangover cures, immune boosters, and a whole lot more. The spa itself includes a couples treatment room and male and female changing areas, each with their own saunas. The spa is situated in a serene space amongst the resort's grounds, and leaves you at peace. I opted for their signature massage which is a must-do while at Lihim.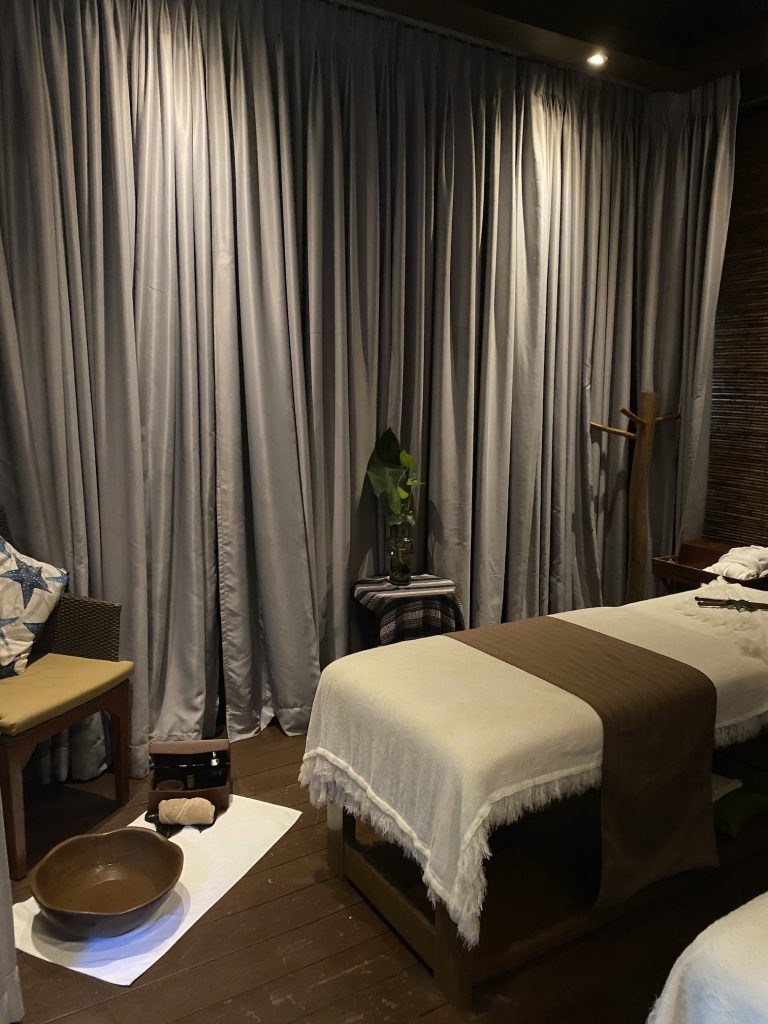 I completely understand why it is called Lihim because it is the 'secret' paradise of El Nido. Their slogan is 'Luxury in Simplicity', and it is so fitting.
I would like to mention the staff members who took care of me. Firstly, my personal butlers Jessica and Emman; then, in the restaurant, Angel; the general managers Armand and Jen; and lastly, Sed, Toto, and Arnold. Thank you for making my stay so unforgettable.
Excellent hospitality and top-notch service guarantees an extraordinary holiday experience. For a luxurious relaxing getaway surrounded by nature, Lihim Resorts is the perfect destination.
Reviewed by World Luxury Awards representative, Kayla Lourens.
To book your stay at Lihim Resorts, visit their website: www.lihim.com